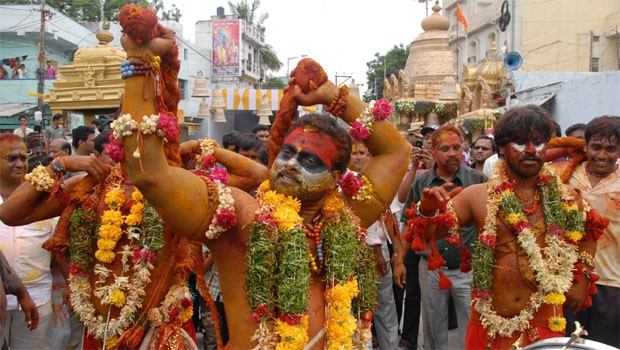 Bonalu, the Telangana's colorful festival has been set in motion on Sunday officially. This festival begins on the first Sunday of Ashada Masam (July-August) of every year. This year, the festival took off yesterday( July 19) to a fiery start of sounds and songs in Langar Houz Mahankali Temple and the procession of devotee surged  to the historic fort of Golkonda in the afternoon. The festival will comes to an end on August 9. The unique festival is celebrated only in twin cities of Hyderabad and Secunderabad.
Women draped in colorful sarees and teenage girls in lahenga-voni, carried on their head the bonam, a pot containing sacred food, and offered it to Shakti (Mother goddess). Offering Thottelu, small colorful paper towers, to the goddess is important feature of the festival. Telangana ministers Nayani Narasimha Reddy and Padma Rao offered the traditional clothes to the Goddess at Langer Houz. Then the procession called Ghatam, started to the deafening sounds of tappetlu and rhythmic dances by youth and reached the inner gate of Golconda fort in the evening. Bonalu venue is Jagadambika Ammavaru temple in the fort.The stables at the fort have been converted into community kitchens and feasts.
Under the neem trees near Golconda animals have been sacrificed in large number. After the formation of the state, the festival is enjoying the state patronage. Till recently, the festival was left to the people.  Now, chief minister K Chandrasekhar Rao wants to symbolize the festival with Telangana culture.Formation of separate T-state has lent new fervor to the festival. Songs praising the goddess rent the air everywhere and youth danced to these tunes as if they were possessed.
The Golconda celebration will be followed by Ujjaini Mahankali temple in Secunderabad, Balkmapet Yellamma temple in Balkampet on Second Sunday, and on the third Sunday, the festival will go to the Pochamma and Katta Mysamma temple near Chilkalaguda and the Matheswari temple of Lal Darwaza in Old City, Hyderabad.
The ritual consists of an offering of food (bonam)made to the Goddess by women which is later shared by the family and friends as 'prasad.' The festival is a month long affair and includes colorful processions and community feasts.
Bonam consists of cooked rice, jaggery, curd and other dishes and is always brought in the earthen pots, which are decorated with white, red and yellow ochres, to be offered to the Goddesses in the temples. The pot with a lamp atop, are covered with neem twigs which again people believe embody the spirit of goddess. The processions are led by Potharaju, the brother of mother goddess. A well-built man plays the role of Potharaju in the procession. Rangam is another crucial and final event in which a woman perform the Oracle. Goddess possesses a woman and would  foretell how the life in year ahead would be.