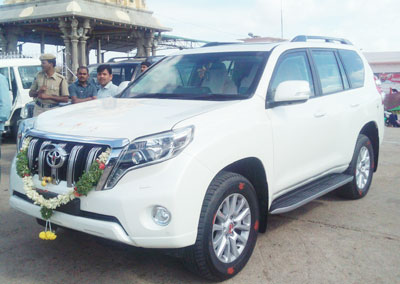 In an effort to achieve Sampurna Telangana (a call given by Prof Kodandaram), chief minister K Chandrasekhar Rao severed one more link with Andhra Pradesh. Sampurna Telanana  is slogan to make Telanana 100 pc free from Andhra influence. The CM discarded four cars,which he had been using for the past 14 months, and switched to new cars. Reason: They were purchased during the days erstwhile Andhra Pradesh.
These four new cars have been deployed into CM's service after puja at Yadagiri gutta (now sanskritized as Yadadri) on Wednesday. Priests at Yadagiri Gutta have performed Vahana Puja before being inducted into CM's convoy. His staff member Ajit Reddy brought these cars to Yadagiri Gutta and Pujas were overseen by  Temple EO Gita.
The Cars, Toyota Land Cruiser Prados, cost about four crore i.e each car costs about Rs one core.
These cars, along with recently acquired Rs 5 crore worth bus, take the first chief minister of state, which is only second to Maharashtra in the number of suicides committed by farmers due to financial crisis and dire poverty, to every nook and corner safely. Of the four vehicles two are fitted with bullet-proof armory. A total of five Land Cruiser Prado are being used in CM's convoy. The company delivered the vehicles yesterday, even though orders were placed last year itself.
Why did  KCR crave new cars ?
According to officials, the cars he had been using were not bought by Telangana government. Last chief minister of erstwhile Andhra Pradesh  N Kiran Kumar Reddy, who worked day in and day out to stall the bifurcation of Andhra Pradesh, bought these expensive black sport utility vehicles.  Still KCR used these pitch black cars for sometime. Later, he ordered the officials to paint them white as if it would hide the fact that they were purchased by an Andhra CM. Union Public Sector entity BDL is said to have painted them white. Still, he was not happy. The CM said to finally favored new cars, each costing more than a crore and discarded the Kirankumar Reddy's cars.
Now what is amiss for the Telangana CM is a helicopter.
KCR, whom, Chinna Jeeyar Swamiji called 'Telangana Jatipita' now can use all these vehicles to reach out to any village or place in Telangana and talk about how to convert the Telangana in to bangaru Telangana.
Around the same time yesterday, the media is painting a gloomy picture of Telangana's agriculture. Due to failure of monsoon rains rice production is expected to fall drastically. TS is passing through rainfall deficit of minus 21 pc. The situation is bound to aggravate the indebtedness of farmers in state.
Incidentally, Andhra Chief minister also is drawing flak for acquiring expensive cars, camp office renovations,  security beef-up  spending about hundred core in Hyderabad and Vijayawada while at same time crying for financial help from the centre