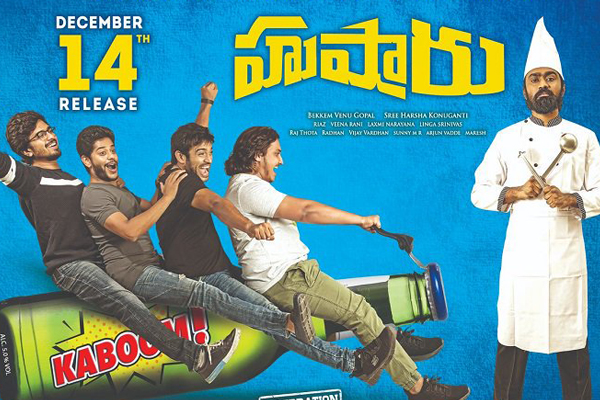 Husharu movie review
Telugu360 Rating 2.75/5
Husharu is a youthful comedy caper starring a bunch of upcoming artists in lead roles. The film is directed by SreeHarsha Konuganti and Radhan have composed the soundtrack.
The trailers and teasers filled with slapstick comedy and humorous situations revealed that Husharu is targeting younger generation audience. Here is our review:
Story:
Arya,Chey, Dhruvand Bunty are four childhood friends who turn mischievous youth. Without any work, they live happy go lucky life. Their main hobby is searching for girlfriends. Arya finds Geetha, Chey finds Rhea as girlfriends. The other two run after Tinder dates. As one of them struck by ill-fate, all others are now forced to earn money as soon as possible.
They start a beer factory, further have an idea to expand operations to a restaurant as well. Finally how they were able to overcome the obstacles – is the rest of story
Performances:
The four youngsters who played the main roles are quite natural in their performances. Their boy next door looks, innocence will make you cheer for them. The two girls (heroines) are okay looks wise, they're liberal in lip lock scenes. Rahul Ramakrishna as Raj Bollamin second half sets the screen on fire, another good role for him. As a frustrated IT employee his comedy works. Remaining character artists are unknown, nothing special mention about any one of them
Analysis:
' Husharu ' is a pleasant surprise in terms of content. It is not a great film but has right blend of humor, emotions and romance.Though story is very simple and age old one, it is the treatment which stands out. Debutante director Harsha Konuganti ensured the contemporary look is maintained throughout. First half is okay, filled with love making scenes and routine youth fun stuff and second half has some emotions worked out. Rahul Ramakrishna role has more weightage in second half. Few scenes of him divert the main theme. Usually this genre films are stuffed with sleazy content with cheap taste but in this film director has managed to take a class approach, despite liberal lip lock scenes
Radhan's music is soothing, Cameraman RajThota's work is impressive with glossy look. Producer BEkkem Venugopal spent adequately
Positives:
Humor, Emotions and Youthful love scenes
Fresh actors and their natural performances
Music
Negatives:
Thin story
Repetitive scenes in second half
Verdict:
'Hushaaru' movie is a good attempt – it is a celebration of friendship & life of four mischievous boys ! The honest characterization of all four friends, natural performances, contemporary direction, decent songs, Rahul Ramakrishna's comedy scenes are positives. Overall, this movie may appeal to the targeted audience. Youth may watch this movie.
Telugu360 Rating 2.75/5
Release Date : 14th Dec, 2018
Director : Sreenu Harsha Konuganti
Music Director : Radhan
Producer : Bekkem Venugopal
Starring : Tejus, Rahul Ramakrishna, Ramya Pasupuleti, Hemal Ingle, Daksha Nagarkar
Telugu360 is always open for the best and bright journalists. If you are interested in full-time or freelance, email us at
Krishna@telugu360.com