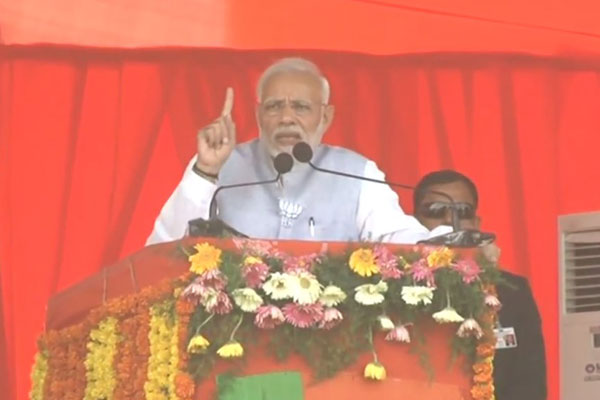 Prime Minister Narendra Modi on Tuesday said that Telangana Chief Minister K. Chandrashekhar Rao is so insecure that he relies on astrologers and 'pooja paat.
Addressing his maiden election rally here, he slammed Telangana Rashtra Samithi (TRS) chief and described the TRS and Congress as two sides of the same coin.
"This Chief Minister feels insecure and has no confidence in himself. He relies either on jyotish or pooja paat or ties nimbu mirchi," said Modi, mocking at the rituals often performed by KCR.
Modi, in his speech, repeatedly attacked KCR for what he called failing to fulfil the promises made in 2014. He recalled that the TRS chief had publicly stated that he will not seek votes if he failed to provide drinking water to every household.
"Has he not misled people? Should he not be punished for this? A person who can't even provide drinking water should not be allowed to rule," he said.
Alleging that KCR destroyed Telangana, Modi said this was not surprising as KCR had done his 'apprenticeship' in the Congress. "He learnt it from Congress, which has PhD in destroying the country."
The Prime Minister said both the Congress and TRS were family-centric parties, both lacked internal democracy and both indulged in vote bank politics and minority appeasement.
Recalling that KCR worked as a Minister in the Congress-led UPA government, Modi remarked that a person who ate "UPA's salt" can't be a rival of Congress.
"He was in Madam's remote controlled government and was enjoying (power)," Modi said.
Modi urged people not to allow the Congress to make a comeback and pointed out that no state allowed the Congress to return after throwing it out of power.
He said people in states like Uttar Pradesh, Bihar and West Bengal were ready to trust others but not the Congress.
Stating that people of Telangana were caught between the devil and deep sea, Modi said the only alternative before them was the BJP, which he said would transform the state.