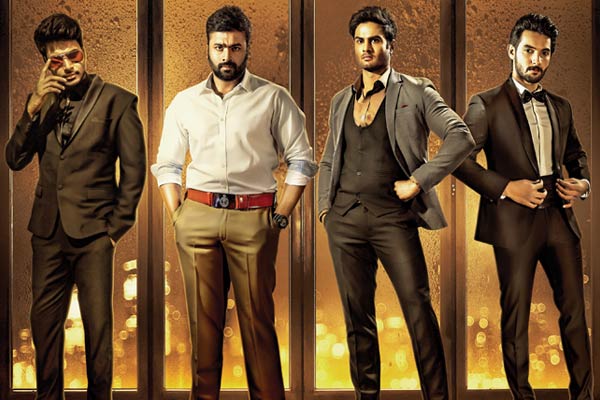 Shamantakamani movie Review
Telugu360 Rating 2.5/5  
Spoiler Free Review : 
Two genres are safe bets for small and medium budget films in Tollywood currently. For past 4-5 years, the trend is that these two genres namely 'Crime Comedy' and 'Horror Comedy' [ with a dose of action] have proven to fetch minimum guaranteed revenues. Films such as 'Swamy Ra Ra ' ,' Kshanam', 'Shankarabharanam' (new) and 'Keshava' belong to the Crime Comedy category. Whereas 'Prema kadha chitram', 'Rajugari Gadhi',' 'Ekkadaki Potavu Chinnavada' and 'Karthikeya' fall under Horror Comedy.
Shamanthakamani belongs to the former. The story is woven around one crime episode and ensuing events are narrated, ultimately unfolding the mystery behind the crime.
Story:
Four individuals named Krishna (Sudheer Babu), Shiva (Sundeep Kishan), Karthik ( Aadhi) and a Car mechanic ( Rajendra Prasad) attend a party at Provotel pub located in Hyderabad city. Sudheer Babu, after the party realises that his Rolls Royce vintage car valued 5-crore rupees is stolen from the parking lot. C.I. Ranjith (Nara Rohit) investigates the case, probes the suspected attendees of the party. As the movie unfolds, Ranjith listens to each of the suspect's (Sundeep Kishan, Aadhi and Rajendra Prasad ) version on what had happened that night. It is the Pre-climax and Climax that reveals the shocking facts and twists.
Analysis:
The story in this genre is thin, so the writers and the director should be able to build strong situations and characterizations to make the film engaging. Especially when the film has multiple unrelated threads (characters) which concur at certain point in the story. Director's strengths are reflected in how well he/she can infuse entertainment and characterization in the limited scenes for each thread.
Shamanthakamani opens in an interesting fashion. The narration falls flat as it shifts to the flashback to establish the scenes which eventually lead to the main event. Sundeep Kishan as a tapori boy from Rajahmundry, Aadhi as middle class lover boy whose girl friend is an NRI from a rich family, a mechanic Rajendra prasad who falls in love with Indraja ( a vegetable seller); all three threads lead to Provotel pub to an ill-fated night filled with non-stop action. C.I Ranjith (Nara Rohith) is also part of the game unknowingly. First half ends where it has started – i.e. a vintage car has been stolen from a hotel parking lot.
As second half progress, the interrogation part is somewhat engaging. Each person involved narrates their version which matches with the evidences collected by the C.I. Climax scenes are good and different reflecting some creativity. In other words, Shamanthakamani offers something worthy only towards last scenes.
Director Sriram Adittya who also handled story, screenplay and dialogues could not do complete justice to any department. He was only moderately successful. Dialogues were pale in most of the segments.
Performances:
The key strength of the film is in its cast and their performances. All youngsters did fine but Sundeep Kishan leads the pack in performance.His diction and ease in action is getting better with every movie. Sudheer Babu's character demands portraying some sad moments which he handled well. Aadhi and Nara Rohith were fine and their roles are kind of fun oriented. Senior actors Rajendra Prasad and Suman were adequate. The two female actors Chandini Chowdary and Indraja had very limited scenes. They did decently for their part.
Positives:
Performances of the artists
Better second half
Pre-Climax and Climax scenes
Sameer Reddy DOP
Manisharma Re-Recording
Negatives:
Poor First half
Comedy and Mother sentiment elements did not work out well
Mediocre Characterizations
Filler scenes could have been better
Verdict:
Shamanthakamani is a pretty mediocre Crime investigative film. If you are a fan of any of the four young heroes, you could watch it. Being a multi-starrer, the openings may be encouraging in domestic market. Overall, it could have been better.
 Telugu360 Rating 2.5/5
Release Date : 14th July, 2017
Director : Sriram Adittya
Music Director : Mani Sharma
Production : Bhavya Creations
Cinematography : Sameer Reddy
Starring : Nara Rohit, Sundeep Kishan, Aadi Saikumar and Sudheer Babu