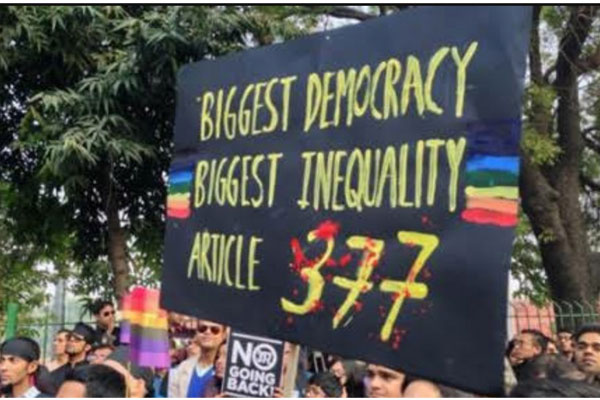 In a landmark verdict, the Supreme Court today scrapped Section 377 that decriminalizes gay sex. The Apex court also opined that history owes apology to LGBT community ( Lesbian, gay, bisexual and transgender )
What is Section 377:
Section 377 of the Indian Penal Code was introduced way back in 1861, during the British rule of India . It criminalizes sexual activities "against the order of nature", including homosexual activities. This includes intercourse with same sex, with animals and minors. LGBT rights activists have been voicing about unconditionality of this 158-year-old colonial law on consensual gay sex.
Section 377 states that: "Whoever voluntarily has carnal intercourse against the order of nature with any man, woman or animal, shall be punished with imprisonment for life, or with imprisonment of either description for a term which may extend to ten years, and shall also be liable to fine."
History of Petitions against Section 377 and verdicts:
In 2009, the Delhi High Court gave verdict in Naz Foundation v. Govt. of NCT of Delhi that the provisions in Section 377 related to same sex consensual intercourse are unconstitutional. Delhi high court opined that, Section 377 and other legal prohibitions against private, adult, consensual, and non-commercial same-sex conduct to be in direct violation of fundamental rights provided by the Indian Constitution.
In 2013, Supreme court set aside the 2009 Delhi High Court order decriminalising consensual homosexual activity within its jurisdiction. So after 2013, consensual homosex again became punishable offense in India.
Parliament intervention:
In 2015, Shashi Tharoor, a member of the Indian National Congress party, introduced a bill for the repeal of Section 377 in parliament. It even came for voting, but it was rejected in the House by a vote of 71-24.
Today's verdict:
6 Sep, 2018: The Supreme Court today reversed its own decision and said Sectuion 377 is irrational and arbitary. "LGBT Community has same rights as of any ordinary citizen. Respect for each others rights, and others are supreme humanity. Criminalising gay sex is irrational and indefensible," said Chief Justice Dipak Misra, who headed the five judge bench hearing the case.
Not entire Section 377 scrapped:
The provisions of section 377 relating to consensual homosex only are scrapped. Remaining provisions relating to minors and animals continue to be valid.
Overall:
This provision was introduced in India 150 years back by Britain. But Britain itself scrapped this in their country 50 years back. In Iran, Sudan, Saudi Arabia and Yemen, homosexuality is still punishable by death. There are around 70 countries in which this is still punishable offence. While France was the first one to decriminalize this, India joined the bandwagon today.
Telugu360 is always open for the best and bright journalists. If you are interested in full-time or freelance, email us at
Krishna@telugu360.com