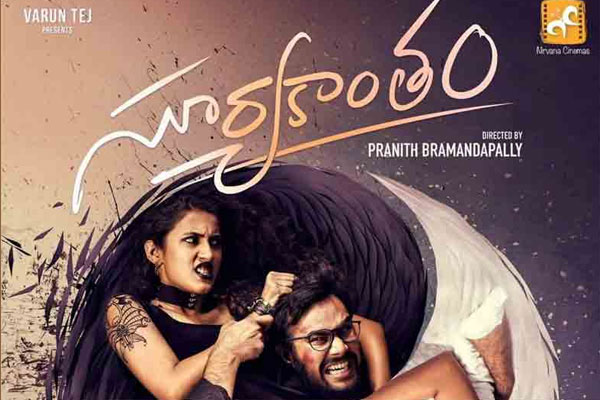 Suryakantam Movie Review
TELUGU360 RATING  2.25/5
Mega heroine Niharika Konidela is testing her luck at box office yet again despite failing to score a success in multiple attempts. This time, she teamed up with talented web series director Pranith Bramandapally for a light hearted romantic entertainer titled as Suryakantam.
The trailer offered an wholesome great and created decent buzz on the film. Niharika desperately needs a hit to keep her career alive in Tollywood. The film is produced by Varun Tej and Nirvana Cinemas.
Let's find out if Suryakantam gives the much needed break to Niharika or not.
Story:
Suryakantam is a triangular love story between Abhi, Pooja and Suryakantam. Suryakantam ( Niharika) , a crazy girl by nature, disappears from Abhi ( Rahul Vijay)'s life when he proposes. Moving forward in life, Abhi comes across Pooja ( Perlene) in an arranged match making attempt. As they decided to marry, Suryakantam comes back to his life and rest of the story is how the three characters resolve their struggle
Analysis:
Suryakantam film tries to capture the conflict of three youth in lighter vein. Without wasting time, in first reel itself, director opens the main theme of the film but struggles then onwards to engage the audience. A different characterization has been written for Niharika, but director fails it establish it in a proper way. Her disappearance is for a peculiar reason which doesn't go well with the audience.  Suryakantam and her mom ( suhasini) thread tests audience patience in first half itself.  Major problem with this film is all the scenes are confined between these three characters. Though the film is of just 2 hour 5 minute duration, still audience feel much lag. Production values by Nirvana Cinemas are adequate. Technically this film is okay for the given resources.
Performances:
Niharika Konidela's over action is irritating most of the part due to a peculiar characterization. Only few times her character is able to evoke sympathy or likeability.  Rahul Vijay is a cool looking guy with decent acting capabilities. If luck favors, he has a space in Tollywood. Perlene Bhesania as Pooja fits the bill. Suhasini Maniratnam appears in couple of scenes and Okay.  Actor Sivajiraja, comedian Satya play other characters.
Positives:
Vibrant and Contemporary look of the film
Production Values
Negatives:
Poor and confused characterizations
There isn't any feel in the two love stories
Lack of adequate comedy
Songs
Verdict:
Suryakantam is an avoidable triangular love flick. This pointless film gets dragged for 2 hour 5 minutes with no single high moment.
TELUGU360 RATING  2.25/5