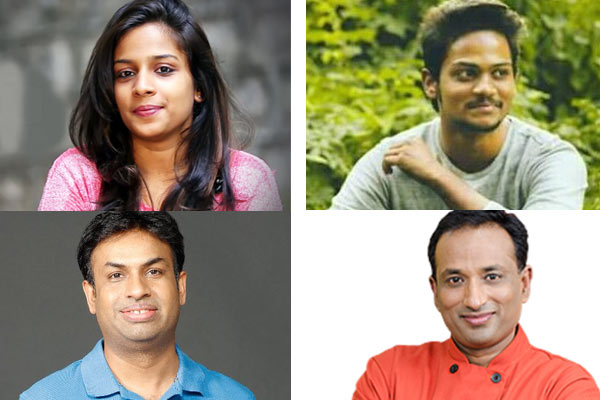 Telugu top youtube stars channels
[dropcap]Y[/dropcap]outube is an ocean filled with talented and creative folks. Any person with an internet connection has the power to start a channel and become a star. The Telugu YouTube Channels are making the most of the resources to make a mark in the fascinating world of the web.Telugu Film Industry is not only giving opportunities to these YouTube stars in their movies but also using these channels for social media marketing. The industry is taking the help of top YouTube stars to bolster their reach for the movie promotions.
We know them, we love them. Here is a list of Telugu YouTube stars' channels which are making it big and have changed the way we perceive things.
Mahathalli   ( Click on the stars names to visit their channel on youtube )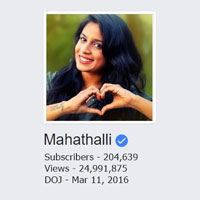 [dropcap]M[/dropcap]ahathalli aka Jahanavi Dasetty is one of the Telugu's top youtube star who has a take on everything. The vivacious actress from Kurnool presents funny situations in a video format of 4-6 minutes. Inspired by people and situations around, an eccentric middle class Telugu girl presents funny situations which connects well with audiences.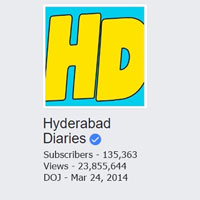 HyderabadDiaries
The Hyderabadi youtube channel is all about bringing the Goodness of the city to the viewers. It started off in 2010 after the duo Abrar Khan and Sharukh Khan put out a few videos that portrayed typical culture of the city and people in a lighter sense. The Hyderabad Vine compilations with rib-tickling references to everyday scenarios that a true Hyderabadi face is worth watching.
Shanmukh Jaswanth
The Vizag lad took Youtube by storm with his dance moves. Fondly called as Shannu, he connects with his audience through his dance. Shanmukh ensures to give a theme to their covers by adding story elements like that of love, loss or action.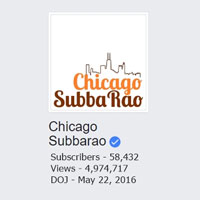 Chicago Subbarao
In its first attempt Chicago Subbarao endeavored to bring about the problems faced by NRIs with lots of creative and funny videos. A brain child of three youngsters Prudhvi Raj Sampara, Praneeth Ramasagaram and Harish Dasari, the trio is known for making six to eight minute video. Indian origin folks who are in U.S.A can definitely connect to these videos.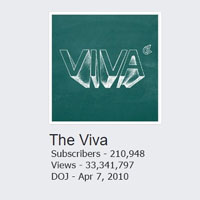 Viva
The debut short film Viva took Youtube by storm, making the channel a household name. Viva's witty and humorous content resonates with the youngsters of Andhra Pradesh, Telangana community. The channel is such a hit that Culture Machine recently acquired this channel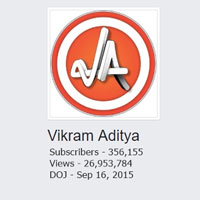 Vikram Aditya
It is first of its kind YouTube channel managed by Vikram Aditya who brings about many interesting things about education and entertainment in Telugu with English subtitles. In a comprehensive manner, the channel brings you the astounding, shocking, shadowy and mind-blowing facts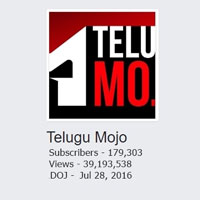 Telugu Mojo
Telugu mojo features supernatural and paranormal activities from around the world. The man behind Telugu mojo, Praveen Kumar Rayapati brings about fascinating facts as short videos about gripping true stories and the mysterious activities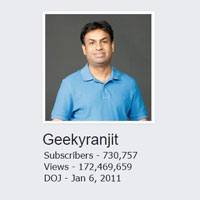 Ranjit Kumar from Hyderabad makes gadget-related videos ranging from taking mobile devices out of their box and setting up a wifi network in a home, to reviews and tech tips. He communicates in simple English and is famed for conducting live questionnaire series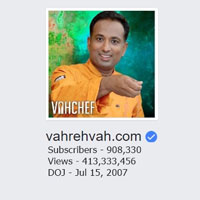 Vahchef – VahRehVah
In his 10th year stint on YouTube Sanjay Thumma popularly known as Vah-Chef is widely held among the Indian expatriate communities for his culinary skills. One of the early YouTube sensations, the channel is continuing successful in its tenth year. He is valued not only for his recipes but also adored for his screen-presence. Inspired by him, his wife started Mrs.Vachef channel which has more than a one lakh subscribers
Telugu360 is always open for the best and bright journalists. If you are interested in full-time or freelance, email us at
[email protected]