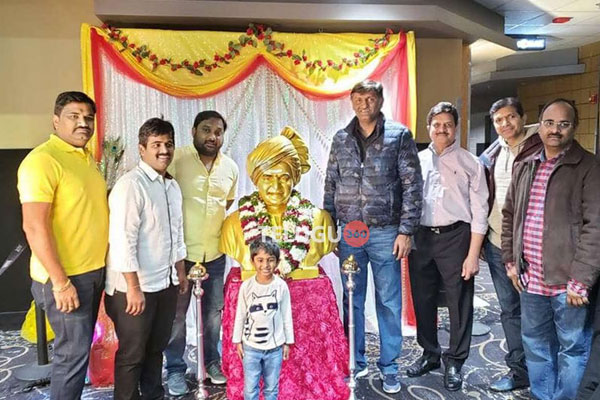 Detroit NTR Fans have worked for a month to Install the Statue of their matinee Idol Nandamuri Taraka Rama Rao at Emagine Theaters, Novi, MI. Statue Unveiling event took place on Sunday 06-JAN-2019 at the Theater Premises where NBK's upcoming movie NTR-Kathanayakudu will be exhibited.
This event was graced by more than 100 of NTR Fans and other movie lovers. The Statue by Unveiled by Gangadhar Nadella garu (Ex-TANA President), Dr. Srinivas Kodali garu and Dr. Sai Ramesh Bikkina garu, Dr. Srinivas Kodali garu Bought the First Ticket for $1116.00 who is ardent followers of NTR principles and philosophy. NTR Fan and Mytri Movie Makers Naveen Yerneni attended the event and wished the exhibitors good luck along with several other NTR Fans Uday Chapalamadugu, Basavendra Surapaneni, Srinivas Koneru, Sudhakar Katragadda, Suresh Puttagunta and Ex TANA Foundation Chair Srinivas Gogineni. venkat Parachuri garu shared his experiences during 1984 NTR visit to Detroit.
Sunil Pantra of DFC Entertainments conveyed special Thanks to Subhakar velaga, Jogeswar Rao Peddiboyina and Jyothi Karumanchi for making all the efforts in making the event successful and worked towards making the Statue installation possible in Detroit.
NTR Biopic ( Kathanayakudu & Mahanayakudu) are being released by DFC Entertainments, and this movie is the first ever Indian movie being exhibited in 4k resolution on Super EMAX Screen with Michigan's Largest screen and US 4th largest Screen. Sunil Pantra, Vamsi Karumanchi and Kiran Duggirala of DFC Entertainments conveyed Thanks to all the fans on there best wishes and mentioned not to miss watching the movie on a Super EMAX Screen which gives a Unique Experience.Speacila Thanks to US Telugu Movies and Roop Chand.