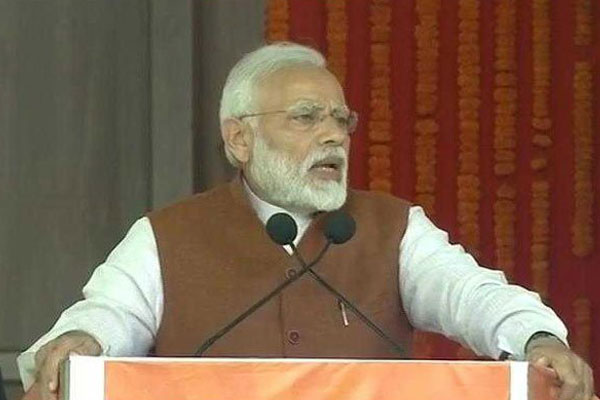 PM Modi chanted NTR name and launched a bitter attack on AP CM Chandrababu Naidu. Modi addressed a large gathering of people at Guntur today. He mockingly referred to Naidu's claims of seniority. Modi said yes it was true Naidu is a senior to him in issues like backstabbing one's own father-in-law. Naidu is also known for his seniority in changing his loyalties and alliances with different parties before and after elections.
Modi said while he was protecting the country like a watchman, leaders like Naidu were only interested in their personal interests. What Naidu is doing in AP is not making it a sunrise state in industrial development but AP is busy making a Son-Rise state for the sake of developing his son Lokesh. Modi said it is not Amaravati capital city construction that Naidu is doing but he is busy with the reconstruction of his own near-collapsed Telugu Desam Party.
PM Modi called upon the people of AP to demand explanation from Naidu why he is spending huge amounts of AP people's money for his Delhi protest. Referring to 'Modi Go Back' protests, PM thanked his rival parties saying that he will indeed go back to Delhi and sit there as Prime Minister for another term of five years.
G.Ravikiran
Telugu360 is always open for the best and bright journalists. If you are interested in full-time or freelance, email us at
Krishna@telugu360.com