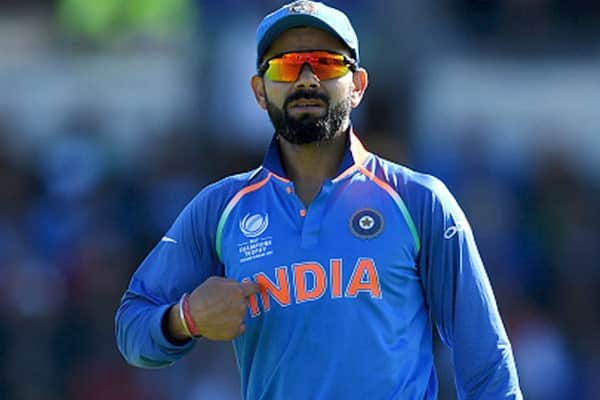 Done with the tough part of making it through the league phase, Indian captain Virat Kohli says opposition hardly matters in the Champions Trophy semifinal and final even though an India-England final is what everybody seems to want.
India will take on Bangladesh in the second semifinal on Thursday after England and Pakistan play out the first last-four clash tomorrow.
The Indian cricket captain was joined by some of his teammates, including former captain M S Dhoni, and coach bowler Anil Kumble at a special reception at the Lord's
Cricket Ground last evening.
The event was hosted by the Indian High Commission to mark the UK-India Year of Culture.
"It would not have mattered who we were playing in the semis. The league phase is the toughest. We have an opportunity to win one game and enter the finals. Everyone wants to see an India-England final. If both teams play well, people might get what they want to see," he said.
Asked which team he would prefer to come up against in the finals, he added: "Anyone. We would just be happy to be in the finals."
Kohli said it was a treat to be welcomed by"massive crowds wherever we play".
"If there is a sunny day in England, there is no better place to play cricket. The white ball hasn't historically swung as much here. When the clouds comes in, the conditions
become a bit more difficult," he said.
"You have to respect the conditions here regardless of what score you are batting at. That is the beautiful thing about playing here, it challenges you as a batsman," he added.
The reception marked the launch of 'Cricket Connects' exhibition, which opens at the Nehru Centre in London and will be touring Edinburgh and Birmingham as a celebration of
cricketing ties between India and the UK.
"What better way to connect than cricket. Everyone is hoping for an India-England final at The Oval in this special UK-India Year of Culture. May the better team win," said Indian high commissioner to the UK, Yashvardhan Kumar Sinha.
The reception was attended by a number of former India and England cricket personalities including Farookh Engineer, Dilip Doshi and former England players Andrew Strauss and Monty Panesar