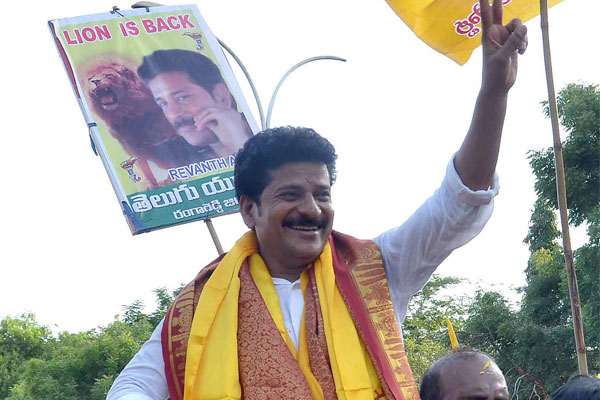 The lifting of restrictions on the TDP MLA revanth Reddy's movement by the High Court seems to have emboldened the Telangana TDP, the leadership is all set to launch its much delayed campaign against the TRS government from September 14. Even though all political parties- from Left-Congress-Right- have actively been organizing dharnas, rasto rokos etc against TRS decisions like scrapping of Pranahita-Chevella, cheap liquor and suicides, the TDP has been lagging. The party, which received a setback following Revanth Reddy cash-for-vote episode, has not been able pull its act together after the event.
Finally, the T-TDP leadership announced its action plan of agitation against the policies of TRS government which the party thinks forcing the farmers to commit suicides. After a marathon meeting in NTR Trust Bhavan on Friday, the party leaders finalized various programs of protest against TRS government.
As per the program, a team of T-TDP will visit New Delhi to meet union agriculture minister Radhamohan Singh and present a memorandum on agricultural situation in the nascent state on September 14 and 15.
On September 16, the team will meet the members National Human Rights Commission along with the members of families of farmers who committed suicide because of indebtedness. The party will go on Padayatra to the project site of Pranahita-Chevella opposing the decision of TRS government to change the approved design on September 18, 19 and 20.
The party workers will stage dharnas near collectorates of Medak, Nalgonda and Karimangar against the government apathy towards the issues of farmers and suicides.