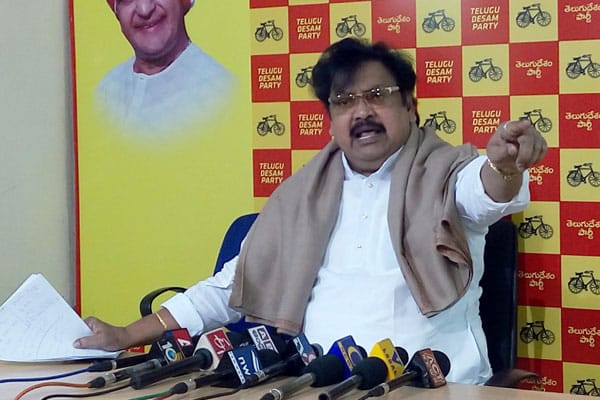 TDP general secretary, Varla Ramaiah, on Thursday, wrote a letter to the Election Commission complaining violation of election code by the ruling YSR Congress leaders.
He said that there was a gross violation of fundamental rights and rule of law in the name of implementing election Model Code of Conduct (MCC) as a part of MLC elections 2023 to Graduates' constituencies.
Accordingly, Nara Lokesh, TDP General Secretary and MLC, who was carrying out a party programme, 'Yuvagalam padayatra' was given notices repeatedly and was sent out of his camp at Kurabalakota mandal in the name of election code, he said.
As per the election code, no public meeting shall be convened or held, no campaign shall be held in the period of 48 hours ending with the hour fixed for the close of poll, he said. As per the election code, no outsiders shall stay in the constituency in the same period of 48 hours, he added.
Accordingly, Lokesh left Kurabalakota respecting the election code and only continued Yuvagalam Padayatra from 14th March 2023 after the completion of polling on 13th March 2023, Ramaiah said in the letter.
However, March 12, 2023, YSRCP MP P V Midhun Reddy along with several YSRCP leaders came to Thamballapalle. Meanwhile, several YSRCP followers took a public rally from Kurabalakota mandal to Thamballapalle YSRCP office, he said. A large number of YSRCP supporters gathered at the Thamballapalle YSRCP office and shouted slogans in support of the YSRCP, he alleged.
Midhun Reddy addressed the press along with YSRCP MLAs Chintala Ramachandra Reddy, Peddireddy Dwarakanath Reddy, Nawaz Basha, ZP Chairperson Srinivasulu, MP Reddappa and others, the TDP leader said. Most of them present there are outsiders to Thamballapalle and do not have a vote like Lokesh in that constituency, he pointed out.
It appears that rule of law and equality before law has been left to air by the concerned election authorities in Annamayya district. Section 126, of the Representation of the People Act, 1951, categorically prohibits holding of public meetings in the period of 48 hours ending with the hour fixed for the close of poll, when the election campaign comes to an end, Ramaiah said.
In this backdrop, it is requested to take criminal action against the violators of election MCC and ensure that democracy is safeguarded and enriched, he said. Simultaneously, local police may be directed to register a case against the culprits for blatantly violating election laws and to take suitable action, he complained.