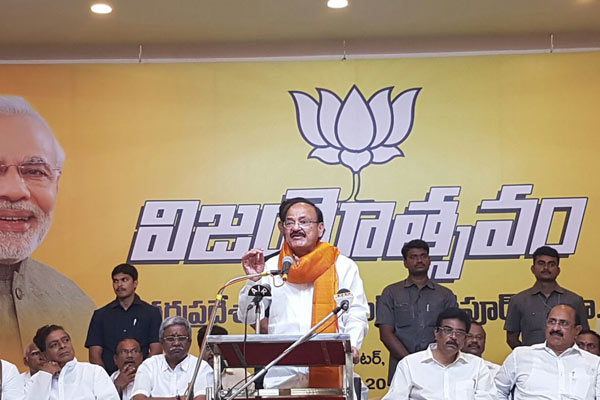 Jana Sena Party supremo Pawan Kalyan, when it comes to attacking BJP, raises the issue of north-south divide. He often points out prejudice meted out by the central government against South Indian States.
It's often Union Minister Venkaiah Naidu who responds to Pawan Kalyan's comments from the saffron party. The minister criticized the comments made by the actor-turned politician on north south divide. He said that the saffron party does not differentiate such way.
It may be recalled that on couple of occasion, when addressing the special category status issue and loan waiver scheme, Pawan Kalyan raised the of regional bias.
Venkaiah addressed the BJP party workers after conducting a victory rally from Gannavaram Airport to Vijayawada to mark the winning of elections in five states in North India. He said that their party stands by the promises made to the AP on sanction of funds as per the State Reorganisation Act. The Union minister said that their government provided judicial sanctity to Special package as it could not give the Special Category Status.