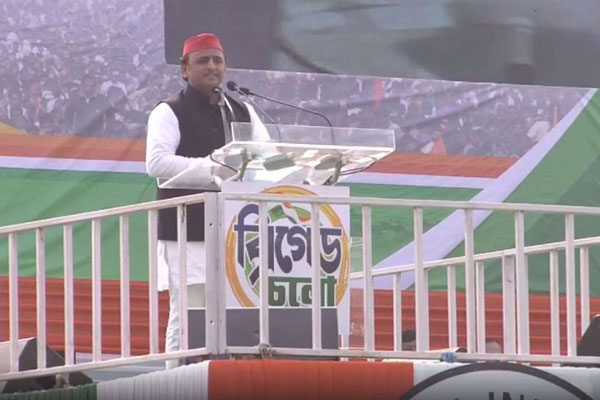 The "United India Rally" by Trinamool Congress chief Mamata Banerjee at Kolkata today has received a thunderous response from leaders across the country as well as the public with lakhs of people turning up for the rally. Congress president Rahul Gandhi could not make it to the event, but he had extended his support in a letter addressed to Mamta. However, one question that was ringing in the minds of people is who will be PM candidate for this front.
Samajwadi Party leader Akhilesh Yadav's response on the question gave sufficient clues to the people. Samajwadi Party chief Akhilesh Yadav appealed to the opposition leaders to come together to defeat Modi government. On the question of who will be PM, Akhilesh said that the country just needs a new PM, name is not important. He also added that Prime Ministerial candidate will be decided by the people. He also told that the country now is waiting for a new Prime Minister.
However, responding to a question, he told that both Maya and Mamta are strong leaders and are able candidates to lead the 'grand alliance', and also for Prime minister position. Even though he reiterated that it is not important who the prime minister candidate is and pulling down Modi is more important, political analysts as well as people got enough hints from his response that stage is being set to project Maya or Mamta as PM candidate.