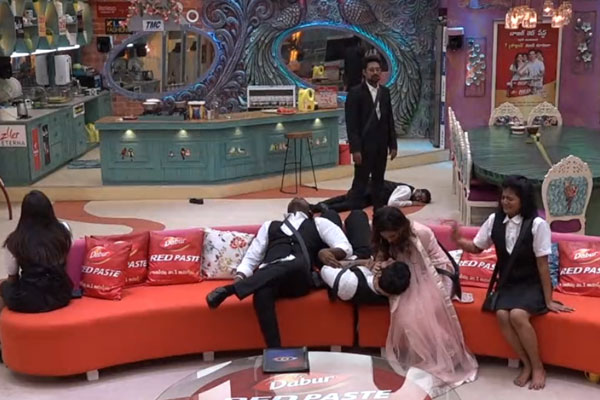 Bigg boss continued bringing the family members of the housemates into the house in today's episode too. In previous seasons also, the episodes in which family members of the housemates' visit house were watched very keenly by the audience. Yesterday, Rithika, sister of Vithika, joined the house. Today's episode started with Ali's wife entering the house.
Ali's wife honest suggestion to Ali:
Ali's wife Masuma entered the house when all the housemates are in 'sleep mode' as ordered by Bigg boss. She spoke upfront and gave some honest sugestions to Ali. She told him that, the audiences want that Ali, whom they have seen in the first 50 days of this season. She clearly told that seeing him all the time chitchatting with Shiva Jyothy and not being aggressive in the games is seriously hampering his prospects. In fact, the same opinions are expressed by many people in recent weeks as the audience felt he re-entered the house only to help Shiv Jyothy instead of playing for himself.
Click here: Hidden agenda: Did Ali Reza reenter 'Bigg boss' to help Shiva Jyothy reach finals?
Shiva Jyothy lived up to the title 'Pathala Ganga' by crying too much:
When Vennela Kishore joined this show, he called Shiva Jyothy 'Pathala Ganga' for continuously crying for even sill reasons. As soon as Shiva Jyothy's husband Ganguly entered the house, she started crying. He also told her that lots of crying is not good for her and she should stop crying in the house. He assured her that she is playing the game nicely and hoped she will be in the finals.
Click here: Bigg boss tidbits: Shiva Jyothy spoiling her prospects by crying a lot?
Baba Bhaskar's Family members joined the house:
Even Baba Bhaskar's wife asked him why he keeps saying, he is not at all bothering about winning the title. She also asked him not to cry in the house. Baba's kids – son and daughter looked cute. Also, Baba Bhaskar's wife appreciated Vithika for pushing him from the rickshaw when Baba attempted to urinate during the Battle of medallion task. It is known news that Vithika got huge negativity for pushing him during the task despite Baba giving her space and comfort during that task. Vithika must have been relieved a lot after getting appreciation from Baba's wife.
Family members of the housemates – Varun, Rahul, and Sreemukhi, who are expected to be the top 3 finalists of this season – are yet to visit the house. Overall it was a very enjoyable episode.