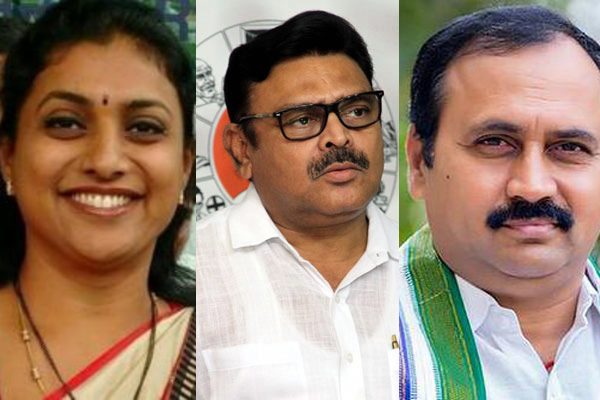 The way YS Jagan's formed his first cabinet by giving appropriate importance to all sections is being appreciated by many. Especially the decision of giving a clear indication that 90% of these ministers have to leave their seats after 2.5 years is also being appreciated by political pundits as well as common people alike. But the trio that missed the bus – Ambati Rambabu, Alla Rama Krishna, and Roja became the talk of the town now.
Ambati Rambabu has been with Jagan even before he launched the party. He has been loyal to Jagan as well as the party and he was the one who vociferously defended Jagan in media debates for the last 7 years. He was the one who showed up in front of media even when party faced a humiliating defeat in Nandyal by-elections and subsequent local elections. However, Jagan didn't consider him for ministry now.
Alla Ramakrishna Reddy also had fought with the TDP government through legal battles. He was the one who filed numerous petitions against the CBN government in the courts on every possible occasion. Moreover, he defeated Nara Lokesh in Mangalagiri constituency. But Jagan seems to have sidelined him as well, at least for now.
Firebrand Roja is very popular among people given her cinema background. She also has been with Jagan since the beginning. She hit the headlines when the then speaker Kodela Siva Prasad suspended her from assembly for a year. She also was very vocal questioning the TDP government during call money incidents. However, she also missed the bus now.
All of these missed the ministry because of Jagan's attempt to balance the castes and regions while allotting ministries. All of them have to wait for two and a half years for the next chance.