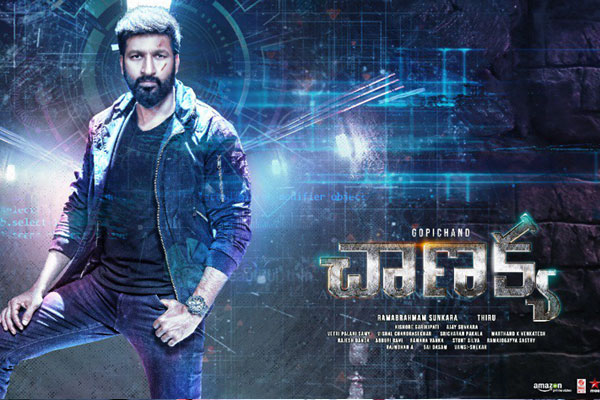 Chanakya Movie Review
TELUGU360 RATING : 2/5
Macho hero Gopichand has pinned a lot of hopes on his next film Chanakya which is billed as a spy thriller. Going through a lean patch with a spate of forgettable films, Gopichand is now very confident of making a strong comeback with this film. The interesting promos have generated decent buzz in audience and Gopichand's impressive transformation is going to be one of the biggest assets for the film.
Chanakya has Gopichand playing a spying agent working for RAW and the story is set in the backdrop of Karachi. Directed by Thiru, the film has Mehreen Pirzada as the leading lady.
Story :
RAW agent Arjun ( Gopichand ) captures a dreaded criminal Abdul Saleem in a dangerous mission. Saleem's boss Qureshi is a high profile Pakistani terrorist leader, who abducts a team of RAW agents in counter to saleem's capture. Rest of the story is how the RAW and Pakistani terrorist group plan attacks and counter attacks to release their respective team members
Analysis :
The film takes off on high note with an action episode by Indian RAW agents. Arjun and his team attack terrorist camp and captures Qureshi gang's key person Abdul Saleem. After that undercover RAW officer Arjun's mainstream life in Delhi is shown. The other avatar of Arjun is a bank officer Ramakrishna. Most the first half is then filled with comedy track involving Mehreen, Gopichand , Suneel , Ali and Raghubabu . Suneel and Gopichand comedy is just mediocre but the other track is disgusting
Ali is a veterinary doctor, Mehreen's pet dog is in need of mating. The related cheap comedy track is about Mehreen pleading Gopichand to allow his female dog to mate with her male one, and references to usage of condoms on dogs. The first half is pretty flat except couple of action scenes.
In second half things are relatively better as Qureshi and his son Sohail are entered. The film focusses on the core point of counter attacks. But the major problem with CHANAKYA film is , India Vs Pakistan cross border terrorism , RAW intelligence such high profile topics and supposedly super-secret operations are written the way Malakpet Sub Inspector deals with local Gudumba or Matka dealers. There is another character, informer, played by zareen khan . Raw officer Arjun operates in Karachi , his super abilities lack any thrill due to poor direction
Production values are good, few action episodes are mounted at bigger scale. On technical side, cinematography is the best part, background score and thrill factor in action blocks are mediocre. The director Thiru has failed in script work to engage the audience
Positives:
Opening sequence, few episodes in second half
Negatives:
Poor First half
Cheap comedy track on dogs
No excitement in this supposedly action thriller
Verdict :
' Chanakya ' is another disappointing film for Gopichand. A Bigger canvas film with its silliest execution tests patience. For Few action sequences, good amount of budget has been spent but in vain.
TELUGU360 RATING : 2/5