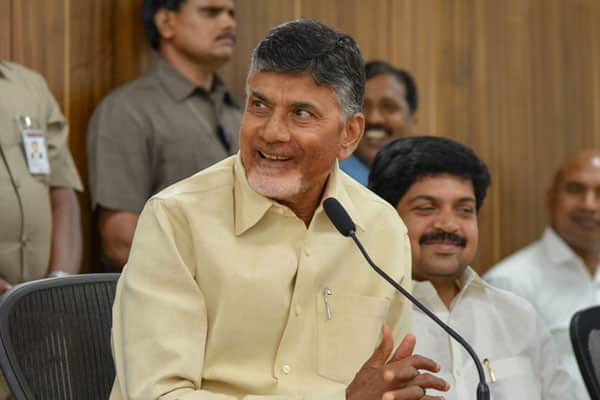 Andhra Pradesh Chief Minister Chandrababu Naidu was the youngest assembly member and even youngest minister at 28 years in undivided state. After about four decades of political career, Naidu suggests youngsters not to choose politics as a profession. Rather he advices the aspiring politicians to settle down first and not solely depend on politics. He believes that only after settling down a person feels like serving others. This could be one reason that the young leaders in Telugu Desham Party are countable on fingers. However, Naidu deems otherwise and said that their party has created enough opportunities for youth to serve people through their party. Quoting the example of Ram Mohan Naidu, Lokesh and Devineni Avinash, the CM held that in 2019 elections the valour of younger TDP generation will be comprehended. At the governance level, he affirmed that indiscipline will not be tolerated in his party and no leader is supposed to cross the Lakshmana Rekha.
Naidu in an interview to Deccan Chronicle spoke about the political peers including Y S Jagan Mohan Reddy and Pawan Kalyan who are the new generation of politicians. He termed the opposition leader as an unstable man who doesn't know the spelling of integrity and character. Speaking about corruption, the TDP chief alleged that corruption is expanding under the direction of YSRCP chief and said that their party knows how to handle Jagan who grew with the help of his father's corrupt practices. While the TDP national party president doesn't consider Reddy as competitor, Naidu said that he respects Kalyan but it is too early to speak about Jana Sena chief.
As the world is facing a leadership vacuum, we Indians should appreciate for having the most stable leader like Narendra Modi emphasizes Naidu. The BJP leaders in state are agitated with the TDP, however, the CM said that he follows alliance Dharma and expects others to complement as well. Naidu who has time and again said that he wants TDP to remain in power forever in AP, trusts in promoting consistent leadership and development in the country. An ally of the saffron party since the Vajpayee reign, TDP supremo is all praise for Modi for not only consistently driving the country towards development but also promoting the nation abroad.