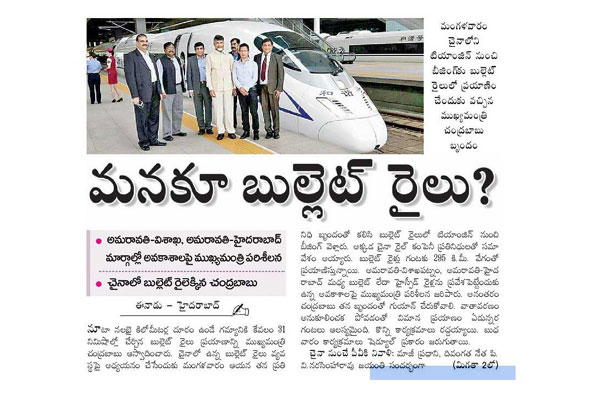 Eenadu, the largest circulated telugu daily in Andhra, is known for it's pro-TDP line. Eenadu played a key role in helping Naidu storm back into power and is also now taking a soft stance against Telangana CM KCR. From 2014, after Naidu became CM again, graphical designers in Eenadu have become extremely busy. Not a day goes by without publishing graphical images of Amaravati. This has created false hopes among people of Andhra Pradesh and Eenadu never tried to present the ground realities. AP Government has serious funding issues with Amaravati project and Eenadu newspaper never ever mentions that.
Now, Eenadu has taken its sycophancy to a new level. During his visit to China, Mr. Naidu took a bullet train and the very next day an articles comes up in Eenadu with title "Manaku Bullett Railu" (A bullet train for us also) . There have been no talks with Chinese officials on bullet trains and Eenadu just concocted a story based on Mr. Naidu's photo in front of a bullet train.
Eenadu should have done some basic research before claiming that we also need a bullet train. World wide, these projects have turned into white elephants. Take for instance of high speed raid between North and South California. This project is projected to cost upwards of 300,000 crores, which is 3 times Andhra Pradesh's state budget. Just the initial estimate for bullet train between Ahmedabad and Mumbai is pegged at Rs 98,000 crore, and budgets balloon out of control in these infrastructure projects. Is this financially feasible at the current dire state of AP finances? Even though these articles are intended to help the powers that be, political experts opine that these type of false claims will eventually come to bite back. Hope Eenadu presents actual facts to the readers instead of taking the readers for a "ride on bullet train".