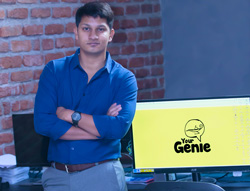 Can't get it! Don't need it! Change this lazy rule with YourGenie. Ask for ANYTHING and Genie is at your service both locally and internationally with delivery services, gifting, surprise planning, customized requests, etc. There is no area in this world that is unfamiliar to YourGenie, just place a request and see how the magic unfolds. Telugu360 is in conversation with Ravi Chandra, the founder of the startup, who tells us about the incredible and fascinating journey of YourGenie…
How does YourGenie work?
It is as easy as one-two-three. Send a SMS or WhatsApp Genie at 9063006300 or just message us on Facebook messenger on www.facebook.com/yourgenie.co. Skilled operators will do all the necessary work for the customer and will process the request. Genie not only manages your domestic needs but also attends to your international needs without you needing to travel back home.
Tell us about any wish that Genie granted?
Sure. We delivered a cake to an elderly couple on their anniversary from their grandson living in the US. We went an extra mile and reverted back to our customer with the video and pictures of the event. Genie is a happiness spreading brand and not just a service startup. Your Genie grants a thousand orders per month. We have delivered clothing picked up from Hyderabad to Sweden and other European countries as well.
Can you take us on a short walk down your memory lane to where you are today?
I was always an entrepreneur at heart and wanted to setup a social enterprise that could bring technology challenged small scale industries onto the online platform and provide logistical support to them at affordable rates. When the idea took shape, Genie came into being as a personal assistant kind of service through Whatsapp as primary channel for business. Now we are all set to release 'YourGenie' our very own chat based mobile app in April.
Genie in Whatsapp is going to take a form of an app. Tell us more about it…
Genie is one hotline number, there are a lot of scalability restrictions with only Whatsapp as our platform. The minute people get to know that we can deliver anything and everything anytime in a big city like Hyderabad, we get a lot of orders.
Once the app is released, we can scale up the number of operators servicing our customers and also streamline the operations and logistics at the same time. The app's User interface will is very friendly, making the otherwise cumbersome process a seamless experience. We have worked on the design of the app from all our learnings over time about what a consumer needs.
How has Genie evolved since its inception?
Economics plays a key role in service based startup. There were a lot of overheads in its initial days, as initially we wanted every stage to have a human touch so that we understand more about the consumer behavior. The first iteration of Genie is completely different from what it is today. Initially, a very small team was handling operations, but now we are expanding gradually in proportion to our demand.
What keeps you busy these days?
Your Genie! (He smirks) Currently we are working on increasing the number of business and vendor partnerships to become service-ready for diverse kind of requests. All our vendors are vetted in advance and make sure they meet the Genie standard of service. The whole idea is to be ready for any random request from a customer and satisfy them with our quality service.
A request from producer K. Raghavendra Rao's office, made you run from pillar to post. The overall effort is more than the cost you charged…
Yes, (he laughs). That was a one-off request where we had to enquire with many vendors to confirm the availability of the product. Service Charge is dependent on the effort for such rare orders, where we have to put our expertise in place. We welcome this kind of orders as we get to know about the vendors in local markets and make a note of all this data for future use. We understand that we need to know a lot more about local vendors, without which you are just another services startup with limited reach.
Did any order surprise you?
People do ask us random things which sometimes shocks even me as a Founder on how creative our customers are to use a service. Like, recently a doctor wanted liquid nitrogen for an operation he was performing. These kind of orders fascinate us and the challenge in it keeps us going to establish Genie to be a master of mining relevant data.
There will be legal constraints, you should be aware that Genie is not giving a wrong thing to wrong person. How do you take care of it?
We embrace our constraints and always ask for identity proof for orders which demand for it. If needed, we even take a picture of the customer before handing over an order. We try to be as legal and efficient as possible. People do ask funny things, but we don't entertain such kind of orders.
We understand that the key to Genie's success is going to be its operations. Tell us more about your complete team.
You are absolutely right. Operations are a key to any service-based startup. We are now a team of 22 people with resources spread in broad areas of Technology, Chat-Operators, Marketing and Delivery. The Chat-Operators are very critical for our startup as they interact with delivery guys, vendors and customers and become the heart of the whole YourGenie experience.
How do you differentiate yourself from your competitors?
YourGenie is unique to Hyderabad, we don't have any competitors in our space currently. Similar startups like us are there in other metro cities but not in Hyderabad. We are here to stay for long time to make people happy by giving them exactly what they need, right at their doorstep, in a convenient manner all through an order on chat. Furthermore, our app is a very advanced version of what our competitors have to offer.
What motivates you and keeps you going?
YourGenie, the challenges and the beautiful responses from its satisfied masters. We do pick up and drops – ID cards, bags, cakes, bouquets, sarees, fruits, vegetables – order anything with us and we get it to your home. The use cases keep increasing each day. It is an adventure for us and for the customers who try to get the best out of us.
Once you get a happy customer, you have won them for lifetime. When customers keep us on toes, we are happy and want to do even better. YourGenie thrives to bring a smile on a user's face when they are in dire need of something which makes it a happiness-beyond-measure brand! ☺