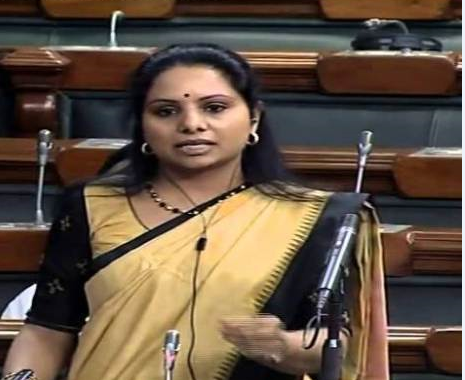 TRS Nizambad MPs Kavita on Wednesday directly attacked AP CM Chandrababu Naidu in Lok Sabha for the delay in the bifurcation of Hyderabad High Court. Dragging chief minister of a state  into a controversy and leveling charges against him is generally not the practice of House. However, Kavitha made a scathing attack on Naidu during  Zero hour in Lok Sabha sparking protest from Government.
Breaking the convention,  Kavita, not only referred to CM of Andhra Pradesh Chandrababu Naidu by name but also  accused  him of blocking the division of Hyderabad High Court, which was immediately objected to by urban development minister Venkaiah Naidu and law minister Sadananda Gowda.
For the past few day the TRS member have been agitating demanding immediate bifurcation of the High Court. Today also they raised the issue in Zero hour.  Participating in the reference, Kavata alleged that," Andhra Pradesh chief minister Chandrababu Naidu is trying to rule Telangana through High Court."
She said Naidu had always been the stumbling block for Telangana and now for the division of High Court. She also criticized centre for not cooperating in the creation of separate high court for Telangana state. Earlier, another TRS MP AP Jitender Reddy said T-government was ready to allot any premises to Andhra Pradesh to set up their own High Court in Hyderabad and they could stay put for ten years.
Speaker Sumitra Mahaja also disapproved of Kavita's remark and advised her not level charges against chief minister of a state from the House.
Reacting to Kavita remark against Chandrababu Naidu, Venkaiah Naid took strong objection. He said taking reference to a person who was not a member of the House was not right. "Don't talk like a child. You are not supposed to refer to somebody who is not a member of the House. If you don't like I will ask law minister to withdraw his statement. Do whatever you like," Naidu said angryly and sat down.
" In the bifurcation of the high court,  a political decision has been taken already. Implementation of decision is getting delayed due to practical problems involved," he said.
Responding to the debate law minister Sadananda Gowda said center was committed to th  e bifurcation of the state. Protesting the remark of Kaviata, Gowda said, the matter was sub judice and could not dwell more on the subject.