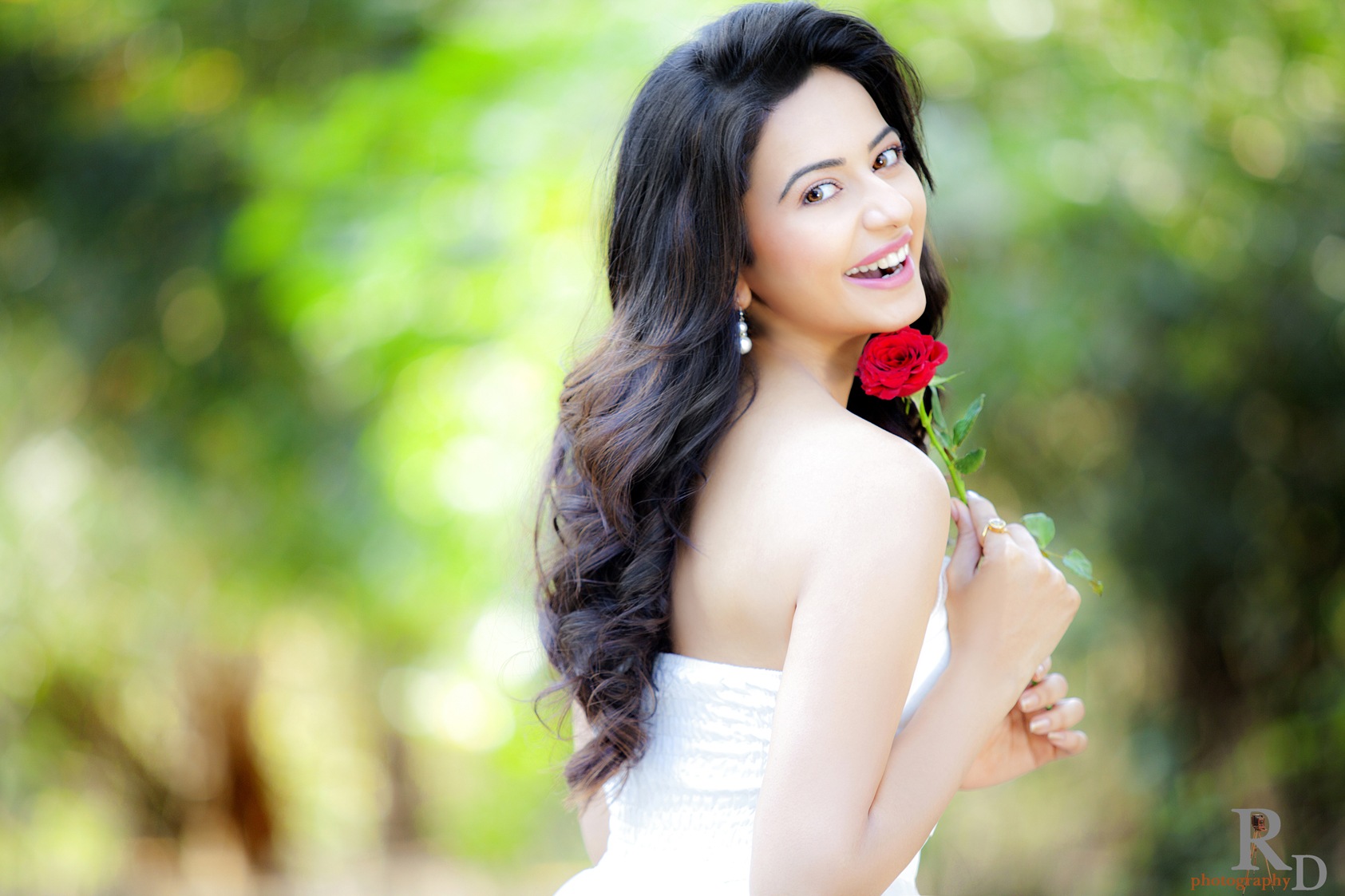 Rakul was in the papers yesterday for losing her way driving in London. She says it was one hilarious incident. She is currently in London shooting for Sukumar-NTR film Naanaki Prematho. "If I couldn't have figured out the way I would have called someone in India whose number I remember and asked them to get in touch with people on the location and tell them I am at so and so place. The problem is I was driving with cameras on my face and I couldn't see. I can't even park anywhere, you have to be careful where you take a left, you can't cross a double line. I was talking to the walkie every two seconds, because I went far, the signal got lost and I was trying my luck. The camera captured all my bewildered emotions and when I got back I told the team that they got more than they expected, every variation of expression. It was a Titanic like situation, there could hear me and I couldn't hear them back," she recollects. In a chat with Telugu360.com, the beautiful actor talks about Kick 2 being a perfect blend of commercial elements and emotions.
How does it feel to be part of Kick 2?
Kick is a huge stepping stone, the big film I signed which is a franchise which is famous just not in South but in Bollywood as well. I was more than kicked to be a part of the sequel. Also the character is lovely, film has a very definite story and a characterisation for the girl. I will be seen in two different avatars, but it is not a double role. The character takes the script forward, it is emotionally characterised.
How did you match steps with Ravi Teja?
This is not a usual commercial film, it is different from Kick, of course it also is a continuity but this film has a strong emotional bond and a message apart from the entertainment quotient. Ravi Teja is amazing I think he has rocket launchers in his body, has great energy levels, I am also an energetic person. He is very helpful, does rehearsals and makes sure we reach an equal point where we could strike the right chord for the film. I think I matched him, it was mass numbers and was lot of fun. There was this song in Switzerland in minus temperature, wind of 120 or 130 km per hour. Ravi Teja would never give trouble to anyone, the last day we didn't know how we would be shooting. We were panicking, as it was really bad, we were dancing in the wind. I was wearing a chiffon saree and it was going between my leg and it would reach half a mile behind me. Pallu was somewhere else and I was somewhere else and the wind was dragging me back, it was that windy but real fun. At the end of the day no matter how much we crib or complain, we look really good on-screen. It looks beautiful for a romantic song.
Your rapport with the director?
Surender Reddy is a fun-filled person I ever met, maintains a light-hearted attitude on set. He gets along well with all, even the extras. There are village episodes and we would party in Jaisalmer, we had a long schedule there. He makes sure we all get along well so that it comes better on-screen. There was nothing around us, just one fire and good music and ensures we are on set at the right time, he was that responsible..in that right way he is the captain of the ship. He knows what happens and keeps explaining till he gets what he wants. He knows the pulse of the audience, he can judge that very well.
Was there initial trepidation shooting with a senior actor? Where did you shoot?
First day of shoot, may be yes. That happens always when you get on a new project because they are people whom you don't know and haven't worked with. There is the sudden nervousness, I will be lying if I say no. I have grown up watching NTR's films. I keep telling myself I have to perform well. It was a fan moment for me when I signed Sukumar sir's film. Even with Suri Sir, I needed two or three days to adjust and then everything was normal. The DoP does wonders with his lighting and I think this is my best look so far. Jaisalmer was cold during the day and suddenly hot, we shot in Hampi which was very hot. We had a set in Hyderabad too.
Did you find time for work out?
There is a gym where ever we go and Ravi Teja is a fitness freak and we made sure we both got our day's share of work out. And I carry my dumb bells with me and do basic functional training. He would ask what I had for lunch and we were healthy eaters and there would be a lot of like-mindedness on the set. The best moment of the film is being a part of this film which is a comedy and has a perfect blend of emotions that will touch the hearts of the audience. It is the story that I am kicked about.