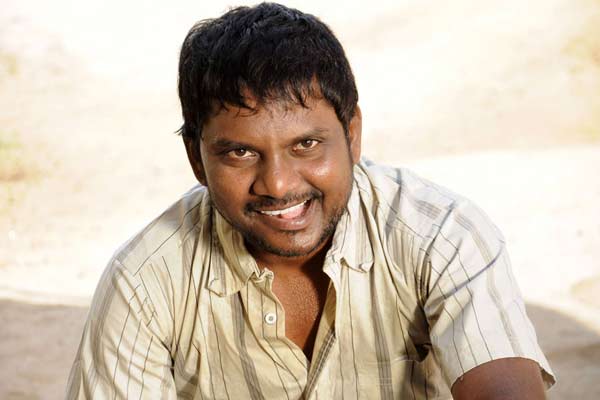 Success story sans a godfather
Thagubothu Ramesh's success in the film industry is a firm proof that you needn't be a lead actor to always steal attention. Plus, the icing on the cake is that he has never been the one to ride on recommendations and truly trusted his capability to make people laugh. His childhood wasn't exactly rosy but that's where he learnt the little things the most, observing the histrionics of his father who used to come drunk to home and behave strangely. Ramesh's mother is no more and he states, it would have been sweet for his mother to have seen him grow like this. The actor who got married recently is awaiting the releases of Nandini Reddy's Kalyana Vaibhogame and Sukumar's Nannaku Prematho. More on that in this exclusive conversation with T360.com
Childhood and the madness for a film entry

I was a mimicry artiste and after seeing Amrish Puri's work in Jagadeka Veerudu Athiloka Sundari, I started imitating him. During the Ganesh puja, that would stretch over nine days on the street, I would be asked to do some sort of mimicry. I would happily do it. I am from Godavarikhani and a son of a Singareni Collieries employee. It so happened , as a child I was mimicking a drunkard and was deluged by compliments for playing such a realistic role. Some people came upto me and said I did it so well and my work reminded them of Keshto Mukherjee and I should try my luck in movies.
On how his father still remains an influence

Years back, there wasn't open cast mining and workers would work underground, walk 5 kms and carry two tubs of coal and come up. Everyone is aware of the hard work that Singareni workers do, no one else works like them. After a hard day's work all the workers would take alcohol, my father including, to forget the physical stress. He was affectionate but an angry person who would show his affection in a different way. We were scared of him and more so when he would get drunk. When he hurt my mother, I would imitate him and she would laugh. Today if people are enjoying my drunken act, I would give credit completely to my father.
The ultimate film breakthrough

After my first film Jagadam (2007) followed by Mahatma and other movies, I was offered various characters but one of it would definitely include a drunkard's role. I got a full grip on that role and people said I do it so well and the word spread that I was an expert in that act. It fetched me compliments from Brahmanandam and Rajamouli. I have completed working in 100 films. It is only now, after doing so many films, I have begun to feel a sense of monotony. After M S Narayana's passing away, I continue to get more such roles. I took up Nannaku Prematho for a change and rejected many commercial films and remuneration for it. It is a Sukumar film and a big offer.
Learning the little techniques, memories and family

I came here purely out of passion for films. Before coming into this industry, I worked as a supervisor and then I joined a film institute. My brothers helped me to a great extent. I wish to recall an incident that I can never forget. One day, I went to see a film without informing my folks at home. The film Sindhura Puvvu made a great impact on me. My mother got to know about my outing, tied me to a bed and beat me and wondered what would have happened if I got lost. I was in the same theatre many years later seeing a film. A friend then came and told me that my mother passed away. I feel bad that she is no more there to see me wrap up 100 movies.
My brothers supported me and we all got our sister married. After finishing the acting course in Akkineni Film Institute, I devloped some confidence. They taught me that acting was all about behaviour and that would stem from real life observation. I knew I would make it. It was hard but I hit the goal. I knew the 'tagubothu' roles would click but I didn't know that it would work in such a big way. The next gen comedy actors have taken my life as an inspiration, that a man without any background in movies can also make it big.
On the need for luck, effort and going beyond acting

Kota Srinivasa Rao garu once said 'gummadikaya antha talent untey saripodhu chinta ginja antha adrustam kavali'. I think it is true. I don't know about the future but I am putting in efforts like before. Also my intention is to write/tell stories in future. I have worked in some memorable films like Bheemli Kabbadi Jattu, Mahatma, Ala Modalaindi, Eega, Gundhe Jari Gallanthayinde, Ishq and Venkatadri Express. I also worked in Dalam but that didn't click. Getting satisfaction is a different thing. If a film works, everyone's life will transform for the better. Nandini Reddy waited for me to picturise the climax for Kalyana Vaibhogame. This scene in the climax comes with a logic unlike what you saw in Ala Modalaindi. I am currently doing a role in the film of Srikant's son. At the moment, I am keeping my fingers crossed, waiting for the release of Nannaku Prematho. No, I don't play a drunkard in it. Sukumar gave me a role in Jagadam and in 100 Percent Love, now this is my third film. I have written a love story and narrated it to people. I want to write like Sukumar though my main job remains acting.