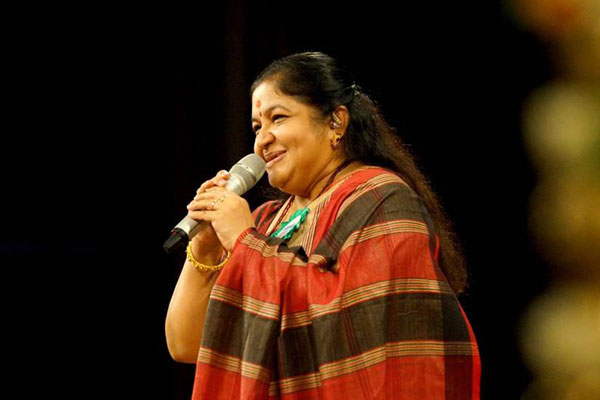 The melodious nightingale of south India- K.S.Chitra is well known for her singing capabilities and amazing stage presence. She is one of those playback singers who can sing any emotion with ease and take the audience along with her on a musical journey. Even off the stage, she is quite sweet and always smiling towards even strangers. She bestows all her knowledge and musical brilliance to God almighty- which itself shows the amazing humility she has.
On the eve of her birthday today,we take a dig at the wonderful life lessons which Chitra offers not just to aspiring singers but also for every passionate human being.
Smile a Lot.. it costs nothing: We seldom see Chitra not smiling or being little rigid on stage performances on interviews. She is strikingly known for her beautiful smile and despite every challenge, struggle and worries- Chitra continues to smile and keep every one of us smiling!
Be a Learner: Chitra is always up for challenges and sings almost every genre of song when the composer demands it. When A.R.Rahman asked her to sing more open throated for the song Ooh Lala from Merupu Kalalu, the singer took it up with positive approach. She proved time and again that there is no end to learn!
Be Humble to Your Teachers: Chitra always credits all those individuals who were great gurus to her in singing. She credits Ilaiyaraaja sir always for giving her a chance to sing in Sindhu Bhairavi which fetched her national award. She also respects SPB immensely and credits him as a teacher who taught her Telugu diction and expressions.
Be a Professional: When Chitra was asked to sing a raunchy song "Nee Kaavalasindhi" from Major Chandrakanth, she was little apprehensive initially for the lyrics. But it was her mentor Ilaiyaraaja who told her to be as professional as possible when it comes to singing. As it is done for a film and a commercial venture, Chitra did it like a pro! The rest is history- Chitra became the face of many funky numbers which became chartbusters!
Accept Life as It Is: Chitra had a terrible tragedy in her family when her young daughter Nandana died in an accident. When asked about the same, Chitra simply says that life is what is given to her and she has to accept things. Such a wonderful way to look at life and its implications!
Telugu360 wishes K.S.Chitra a fantastic birthday and a musical year ahead! She is much more than just a playback singer for sure!