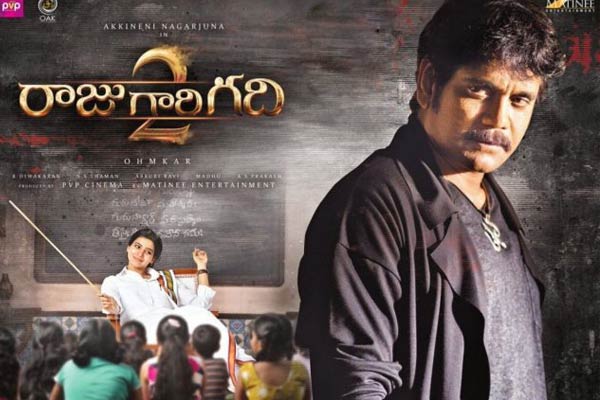 Raju Gari Gadhi 2 Overseas Marketing
Promotions are playing a significant role in deciding the box office fate of any film these days. The truth is any film which has the potential to earn good revenues might underperform due to bad marketing strategies. This is what happening to the latest Tollywood release Raju Gari Gadhi 2 in overseas.
The film, which is successfully running with packed houses in Telugu states, is under performing in overseas. As Telugu360 reported earlier, poor promotions by distributors ( Producers themselves distributed in USA ) have impacted the film's opening weekend collections to a great extent at the overseas box office.
Typically, US based distributors take promotions very seriously. They keep in constant touch with all web media portals and send several Pre release and post release press releases highlighting the positives and other selling points of the film to take it deep into audience. This is a proven strategy and films which didn't follow this formula have often bitten the dust at the box office despite having good content.
In case of Raju Gari Gadhi 2, there is almost zero involvement of distributors in promotions. The film was released in very limited centres despite having a star cast like Nagarjuna and Samantha. Also, the film was not screened in some of the regular popular theatres which exhibit Telugu films citing payment issues. This created some confusion among the audience.
Moreover, the makers have failed to make the film known to target audience. Despite being a melodrama, which will cut across family audience, the film being projected as a horror genre film. As Nagarjuna's films are usually lapped up by family audience, the wrong title Raju Gari Gadhi-2 , and Wrong projection has impacted the collections. In USA , family audience are particularly avert to violence or horror genre films. Makers have made little effort to convey horror content is less , Melodrama is more in this film – which would have made different with family crowds
Raju Gari Gadhi-2 took a decent start with $ 81K haul from its Thursday premiers. With good word of mouth the film is expected to perform well in the first weekend. But, going by the current run, the film might end up collecting estimated meagre $400-450K gross in full run. The share will be in the range of $150K . The expenses might cost around $70K meaning which the film will be a disaster at the overseas box-office. Distributor , in this case producer own release, may end up earning 30 to 40 Lakhs INR as per current trend. Had they sold to distributor , would have got above 3 crores ! Thus Raju Gari Gadhi-2 may end up as a self inflicted wound in USA