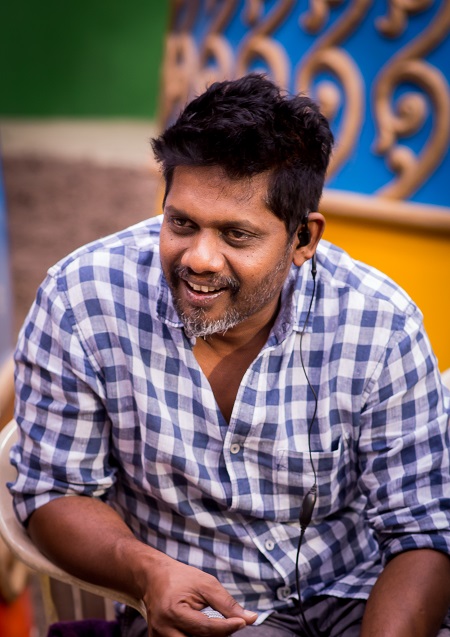 Madhie, the cinematographer of Srimanthudu, watches at least one film a day post shoot to make sure he's updated with the times. He has mostly worked in solid commercial films in both Telugu and Tamil, including Karthi's Paiyya, Vishal's Pandianadu, Mirchi and Run Raja Run. He still has an eye to work for realistic films. In the case of Srimanthudu, even as he felt Mahesh Babu alone could carry a frame, his challenge was to make him look better. Meanwhile, does he want to become a director something? Know more in this exclusive interview by Telugu360.com
How do you update your work after having done 16 films?
After the shoot, I make time to watch a film a day. I go to my room, open my laptop, switch off the phone while doing so. I have around 2500 movies on my laptop. Also, all the cinema production companies now have their own apps and they also put updates on Facebook and Twitter.
Why are visuals sharp or ordinary in certain films?
In order to maintain a sharp level or a quality visual, four or five aspects come into consideration. The time we are shooting, the weather we are shooting and also the way we want the image are very important. We also need to check if it is the right lighting condition and possess the right camera and other equipment. Moreover, we should make sure that the post production is done in higher resolution.
Isn't there a dearth of DoPs?
It's true. We hardly have three or four popular cinematographers in Telugu who are able to sustain themselves. It is just not here but all over India where there is a dearth of classy cinematographers. Every year around 500 films in Bollywood are churned out, about 150 in Telugu, and more in Tamil and Malayalam. Every year, I reject at least 100 films. After all, how many one can do? The Telugu industry has no institutes to teach cinematography. I keep telling producers to come up with some school so that aspirants need not have to travel to far off places to study and can find immediate placement in movies here.
Aren't you getting stuck in commercial cinema?
After Karthi's Paiyya, I did Naan Mahan Alla, then jumped into Shaitan, then Mirchi and later, Pandianadu which was a small film. Run Raja Run too was a commercial movie. Though I am inclined to work with various directors, I am not getting offers to work for realistic or art films. Provided I get any, I will definitely be inclined to do so. There is so much to learn from such movies.
Your opinion on DoPs turning directors?
Cinematographers like Balu Mahendra KV Anand have gone onto become successful directors. Even before turning to direction, it is still a very hectic job for a cinematographer because their work is close to that of a director. Every field has a specialist and I find it difficult to understand how a director can write the story, dialogues, screenplay, direct it and also serve as a cinematographer, all by himself. He might do everything but beyond 4 or 5 films, if they don't achieve success, they start delegating work. In Hollywood, I see only screenplay and direction in the credits for the director but in the Indian industry there is multi tasking which is not even common in Bollywood. A certain producer in the South has started the trend that if someone came to him with a story, he would make him a director. This way, he had made 50 people as directors. I don't say if it is good or bad but still feel multi tasking is a tough job. You need to master every area for the film to shine.
What made you work with Koratala Siva again?
We share a good rapport and after Mirchi's success, he wanted me in his team. Moreover, all cinematographers would want to work with Mahesh Babu at least once. I tried my best to make him look more handsome. He is a charming man anyway. The film has very good producers too who didn't mind pumping in the needed money. They are quite passionate about producing films.
What about the film and Mahesh?
I decorate the frame but only after Mahesh Babu comes in, the frame feels complete. Not that I want to praise him, but I'm saying it as a matter of fact that he infuses life into the frame. At that moment, you don't want a better camera. In the end as a cinematographer though, your intent is to show him much better. The camera length, angle and lighting all help enhance an artiste's emotion. There is a nice emotion in the story and I like the concept of Srimanthudu. Some movies can run without a script banking only on technical stuff, but they can't sustain for long.