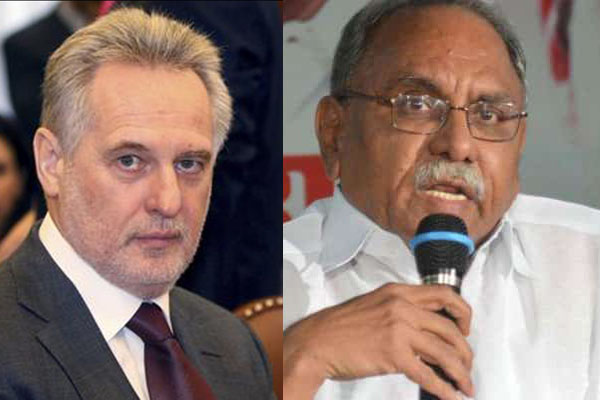 A sudden twist occurred in the US in the case that originated during YSR regime today. As Austria court removed hurdles for the extradition of Ukrainian gas mogul Dmitry Firtash to Chicago, the trial is expected to be expedited. As per analysts, US may ask Indian government to extradite former MP KVP Rama Chandra Rao also to US. If that doesnt happen, US may at least ask Government of India to cooperate in bringing KVP to the court of law as per international regulations.
Who is Dmitry Fitash?
Dmitry Firtash is a very powerful Ukrainian businessman. He heads the board of directors of Group DF and he has business connections to both Russian president Vladimir Putin and US president Donald Trump's former campaign manager. He is one of the prominent and highly influential businessmen in Ukraine and he handled very high profile positions in Ukraine. He was even involved in financing the election campaign of a presidential candidate. He even funnelled money into the campaigns of pro-Russia politicians in Ukraine.
How KVP Rama Chandra Rao and Firtash connected in mining scam:
Firtash is co-owner of RosUkrEnergo and controls much of the Ukrainian titanium industry. Companies controlled by Firtash were involved in a titanium sponge project that required licenses and approval of both the Andhra Pradesh state government and the central government of India. He used US financial institutions to engage in the international transmission of millions of dollars for the purpose of bribing Indian public officials to obtain approval of the necessary licenses for the project. KVP was his partner in dealing with public officials in AP and India. They both allegedly conspired to pay at least $18.5 million to Indian officials in bribes to secure licences to mine minerals in Andhra Pradesh. Over $500 million in sales was expected to arise from this particular mining project.
The case and its severity:
US federal indictment in June 2013 charged totally six foreign nationals, including a Ukrainian businessman Firtash and former Indian parliamentarian KVP Rama Chandra Rao. Firtash was arrested by Austrian authorities in March 2014 to face charges that he had secured a titanium extraction permit in India through $18.5 million in bribes. US has been asking Austria to extradite him to the US. Now Austria removed all the hurdles for extradition and he will be in Chicago in a week or two. If proved guilty, FIRTASH MAY GET IMPRISONMENT OF 50 YEARS.
What about KVP?
During Manmohan Singh's government, he enjoyed sort of protection from Indian government. It is still suspenseful how Modi's government will respond if US asks India to extradite KVP. Will it handover him or protect him on the agreement that he either joins BJP or helps BJP in crushing Congress. It needs to be curiously observed how it affects BJP- YSRCP relations in future. But the latest developments are surely going to give heartache to KVP.
–ZURAN (@CriticZuran)
Telugu360 is always open for the best and bright journalists. If you are interested in full-time or freelance, email us at
Krishna@telugu360.com