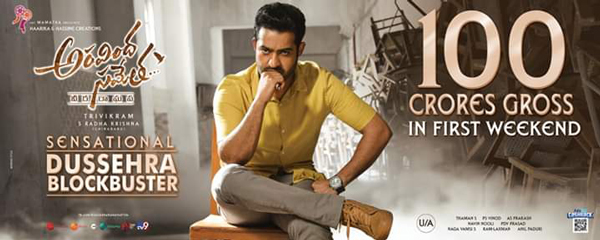 The ugly trend of releasing posters with collections after the release of big ticket films is continuing with Aravindha Sametha too. Earlier this Summer, publicity teams of Bharat Ane Nenu consistently released posters regularly to hype the collections claiming gross was greater than BLOCKBUSTER Rangasthalam. This strategy has resulted in needless controversies among fans about collections and received a lot of criticism from general audience. Ram Charan, too, repudiated it as a bad idea and avowed to refrain from releasing posters for his films from here after. His decision has been hailed as a sensible one from all quarters.
Now, NTR's publicity teams seem to have followed the trend of releasing the posters. While Aravindha Sametha is have a strong run in Telugu states and other regional territories, enthusiastic publicity team has released 100 Crores gross posters. Instead of enjoying the success of the films, teams are involving in projecting numbers for the sake of publicity which is only damaging and belittling the fame of heroes.
As Ram Charan has publicly announced, it is time NTR, Mahesh Babu stop this ugly trend and advise their teams accordingly.