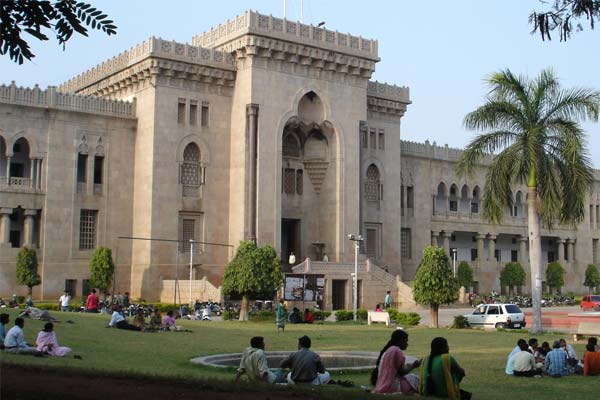 Osmania University(OU) is celebrating 100 years of existence today. On 26th April 1917, a Firman was issued for the establishment of the University which also detailed the Mission and Objectives. With a special focus on the iconic Arts college building, the entire campus is illuminating with colourful laser lights to celebrate 100years of existence.
The Inaugural of the centenary celebrations will be initiated by President Pranab Mukherjee which will host the Chancellor and Governor ESL Narasimhan, Union Minister Bandaru Dattatreya, Chief Minister K Chandrashekhar Rao, Minister for Education Kadiam Srihari and as many as twenty thousand spectators.
The university is named after its founder, Nawab Osman Ali Khan, the last Nizam to rule Hyderabad. OU was established with 'Urdu' as the medium of instruction. In the year 1948, as the university completed three decades of existence, the princely State of Hyderabad became a part of new Independent India. Subsequently, Urdu was replaced by English as the medium of instruction.
Initially, the University Departments and Offices were located at different places in the city. It was only in 1934 that the University was shifted to the present campus. The motto of the University is "Tamasoma Jyothirgamaya" which means 'Lead us from Darkness to Light'. The governor of the state is the chancellor of the University. Spread across 1600 acres the university has UGC, NAAC, AIU affiliations.
The university conferred Dr. B.R. Ambedkar (1953) with Honorary Doctorate, likewise Dr. Man Mohan Singh (1994). OU apart from giving the society like one of the former Prime Ministers, Chief Ministers, Parliamentarians, Legislators, eminent scholars, scientists, writers, sportsmen and is known as the land of uprising. Be it protests in 1969 or 2009, OU students have converted all the agitations into people's movement.