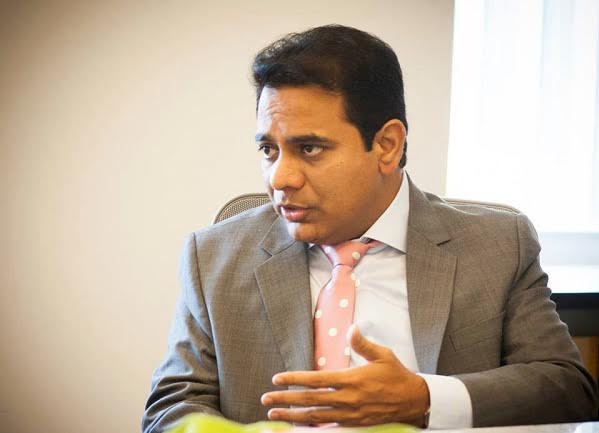 (Gopal K) 
Being his father's son is another thing. Catching up with many things and understanding the administrative, political and technological nuances of his typical job description has apparently come so naturally to him, that he seems to represent Gen Z.
This man is something. He holds forth the hopes and aspirations of people of Telangana, especially the younger generation.
KTR — Kalvakunta Taraka Rama Rao is omnipresent. He is ambidextrous — tweets, inspects roads, attends conferences and gives nice quotes on twitter, all at the same time. Of course, his main job which encompasses all the key portfolios – IT, NRI, Industries, Municipal Administration – in the newly formed State of Telangana surely keeps him on toes. Each of these is a full time job in itself. Above all, he is answerable to a very tough boss, the Chief Minister KCR, who doesn't want to take chances with performance.
How is KTR managing all these things at the same time?  As everyone else, we too wondered how he does all the things at the same time. Telugu360 team reached out to KTR and an affable person that he is, he gladly accepted to do 'A Day with KTR' allowing us to take a sneak peek into his typical day's schedule and present it to our readers.
Upon the advise of the minister, we descended on the hotel in Hyderabad to record his day's significant itinerary.
9:30 AM – Grand Kakatiya, Hyderabad — Board Room
Early morning, right on time. We don't see this with politicians much often. But, KTR was there right on dot. After a quick round of handshakes and introductions, he got on to business. The Confederation of Indian Industry was organizing a conference on manufacturing excellence — MAN'EXE to which KTR is the chief guest.
9:30 – 10:30 AM — Board room meeting with CII executives.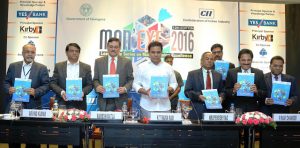 KTR and a senior bureaucrat from Telangana State government, Arvind Kumar, who is the principal secretary of Industries, represented the government.
As CII representatives have explained about different initiatives the CII can take up in Telangana, KTR has begun his probing questions. When a discussion on manufacturing has come up, KTR immediately routes it to his recent visit to Sri Lanka. He has asked the CII delegates, if they can be the interface between Telangana and Sri Lanka governments on textile manufacturing. He has recalled his discussion with Union Minister of State for Commerce Nirmala Seetaraman regarding the trade barriers with Sri Lanka and sought the help of the CII. The minister is clear on what he wants.
This is where KTR has shown the difference. He doesn't confine his thoughts and ideas just to Telangana. He advised the CII to present the case of South India, including the strengths and advantages of Andhra Pradesh, as a package to investors.
Widening the horizons, the Minister has asked the CII to enlist the strengths of Andhra Pradesh in food processing, prawn-culture and other industrial opportunities; and Tamil Nadu's potential in Automobile manufacturing. He, however, laid emphasis on textile manufacturing in Telangana.
While Information Technology and automation are slowing down, the minister has asked the CII to explore opportunities and growth areas in IoT (Internet of Things) and other modern realms.
KTR has disclosed that Telangana Government is proposing to organize a mega investment summit next year and sought to know if CII can work with FICCI ( FICCI and CII represent two different industry bodies which usually do not get along very well). When a CII office-bearer expressed apprehensions, KTR has quipped: "When Telangana and Andhra Pradesh can work together, why can't FICCI and CII? " This has sent everyone around into peals of laughter.
What's conspicuous there was a complete departure of the lackadaisical and protocol-prone style of government which was replaced by corporate ambience and culture. The MoM (minutes of meeting) were circulated in a jiffy – hardly less than 10 minutes – by Arvind Kumar, taking the CII delegates by surprise. The actionable points listed and the next course set for their journey ahead.
10:30 – 11:30 AM — Addressing public gathering for CII  
KTR addressed a larger forum of CII audience where he has dwelt at length on the various initiatives the State Government is muling to rope in more industries to set up shop. He spoke at length on the TS-iPass, its initiatives where industries would get clearances in 15 business days, else they are deemed to have been approved. He has averred the specifics on how more than 2,000 companies have received approvals in this process. He made his point sans any confusion.
11:30AM – 12:30 PM – Board Room 
While the minister is passing through the pre-arranged grind of back-to-back meetings, those who wanted to see him have been waiting for his audience. And, their number only has swollen. Soon, enough the minister got on to keep the appointments and converted the Board Room in Grand Kakatiya into his temporary office.
His core team of trusted lieutenants — Tirupati, Dileep and Mahesh — make sure all the appointments are kept and nothing goes awry. This helped KTR finish a quick meet with aeronautical manufacturers and other local business leaders. "We can't waste the Minister's time in traveling between different meeting venues. So we plan his schedule in such a way that he can do it at the same place where the longer meetings are also conducted," says Dileep, Digital director for Telangana IT Ministry.
12:30 – 1 PM ( lunch) 
It was the time to grab a quick grub to catch up with other schedules. KTR quickly checked with the Hotel executives if they are ok with organizing a working lunch in the board room. However, factoring in the grind involved in making arrangement and the time it consumes, he has headed to the restaurant. And, we have accompanied him.
There is no constraint for selfies with this young minister of Telangana, who is the style statement of the State. Selfies is his signature style to leave an indelible impression among those who desire to take a pic with him. He is ready to pose. Parting shot at any meet is usually a photo shoot, rather selfie shoot for KTR. It's for you to ask, he would never disappoint you, however tight a schedule he has. He knows how much connect those few seconds establish with his subjects.
It's like the pumping of blood by the heart. The functioning is perennial and constant. KTR isn't a man who loses a minute or two on trivia. He used the lunch time to prepare for his next meeting with Malaysian delegation. He gets briefing from Sujai on the same.
Now a bit about lunch. The delectable delicacies and mouthwatering fish, succulent chicken have indeed tickled the taste buds of the young man. But then, he was in a tearing hurry referring to his human notebook, Sujai.
Yet, he did not lose sight on what to eat. He wasn't on to rice and a grand narrative of the smorgasbord, for it was a day typified with all trappings of his official rigmarole.
It seemed the minister is masticating the information about the impending meeting and swallowing the food.
Sujai has explained about Penang model and how manufacturing excellence achieved there in 1980s can be replicated and implemented in Telangana now. KTR has that quintessential quizzical streak in him. As the briefing moved ahead in harmonic progression, salvos have begun pouring out like bullets in geometric progression.
Sujai fielded with dexterity queries on whether Penang model is still relevant and why can't the Japan/Chinese models such as JIT (Just in Time) be adopted. As his PA told that Malaysian delegation has arrived, KTR has rushed out, just after tasting the dessert. He was actually half done with lunch. Most days, it is like that or he skips lunch, at times.
1 – 2:30 PM — Grand Kakatiya Banquet hall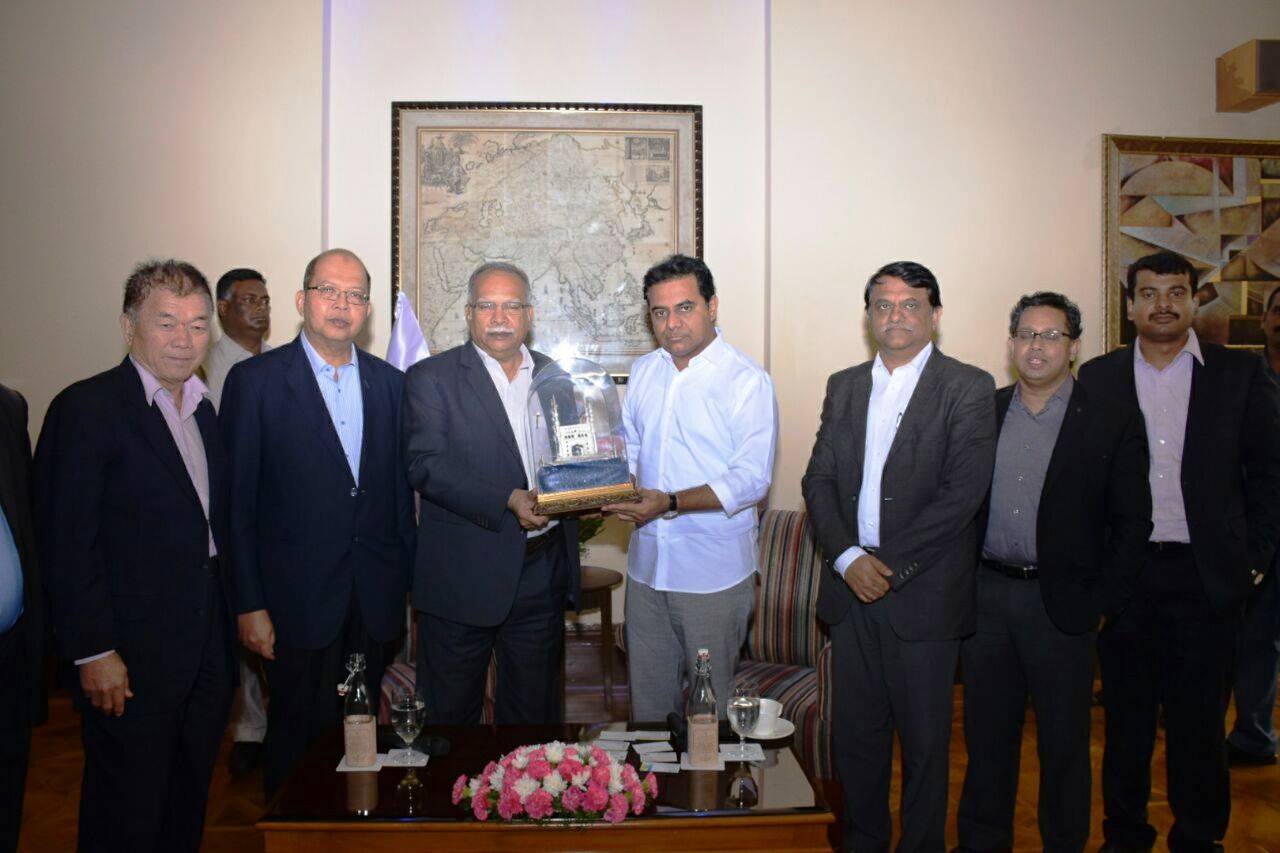 Typical of a workaholic that he is, KTR has begun discussions with Deputy Chief Minister of Penang, an island state in Malaysia. It's as if the duo have been engaged in the dialogue for a long time. KTR has explained how Telangana and Penang can collaborate on textile manufacturing, and hi-tech solar panels manufacturing.
Though KTR stays focused on hi-tech, his concern remains on leveraging its advantage for the benefit of rural economy and rural empowerment. Hence, the effort to get textiles and solar.
2:30 – 3 PM — On the way to HITEX 
As soon as he's done with the Malaysian delegation, we headed to HITEX for a Cablenet conference. KTR stands out in more than one way. He doesn't have a convoy and his vehicle stops at every signal and waits for its turn, in a country where even a small time police officer manages to throw the rules to the wind and pave way for himself. He never has more than one extra car in his entourage.
KTR gets a briefing from Sujai Karampuri, Director ITE&C, Telangana Govt on the talk points for the next meeting in the car.  He never las behind while staying current with things happening around. KTR quickly checks his mobile phone to know what is happening in social media and tweets about CII conference.
3 – 5 PM — Cablenet conference at HITEX
It's an absolute chaos and lusty cheers as KTR steps in, as if some pompous Bollywood star has descended on the place. People began jostling and falling around and all over him to draw his attention and catch a glimpse of the minister. With a view to preventing this, the cablenet team has employed bouncers. "KTR hates using bouncers, but I don't have any option. KTR might be unhappy with me for this, but I don't have any other way to protect him in this crowd," admits candidly one of the main organizers of Cablenet.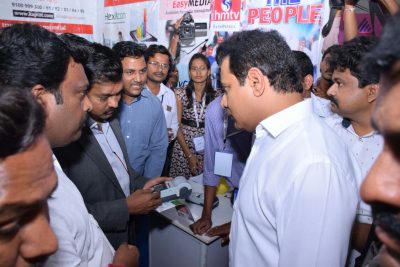 The jostling and milling crowd was such that Sujai, advisor to KTR for this conference, wasn't able to go near the minister as a security blanket cordoned off the minister. Sujai was indeed supposed to walk the minister through all the stalls.
As KTR addressed the multi-system operators (MSOs) and switches gear seamlessly into Telugu. A gift of the gab he inherited from his dad and Chief Minister K Chandrasekhar Rao, the minister demonstrated his loquacious competency in his mother tongue, Telugu, while explaining about how government will help MSOs and not choke them.
"KTR exactly drove home the point. A very few people can do that so effectively. He makes my job easier and now I don't have to field all the questions from MSOs as it came directly from horse's mouth," says an elated Sujai. As it is becoming chaotic, KTR's security has escorted him out of the venue.
As the official programs concluded, the Telugu360 team took leave of the minister, who moved on to his personal appointments. A busy day, indeed.
Some observations:
KTR has the best team to ideate and implement policies and programs. Senior bureaucrats like Arvind Kumar and Jayesh Ranjan are heart and soul of the minister. They make functioning of the minister hassle-free with breakneck speed. This naturally eases his stress in handling multiple portfolios.
A big shout-out to Tirupati (PA to KTR). Based on our conversation with people, we understand Tirupati is the eyes and ears of the minister. He seems to know what KTR likes and what he dislikes and takes complete care of him.
Dileep Konatham, an alumnus of Google, is the Director of Digital Media, Telangana State Government's IT department. He takes care of the Minister's and the Government's Digital Media platforms. He also facilitates the Minister's coordination with various Telangana Government, Non-Government and corporate institutions within and outside the State.
Mahesh is the media face of KTR. He makes sure all events of KTR are covered and with necessary pep and accurate information.