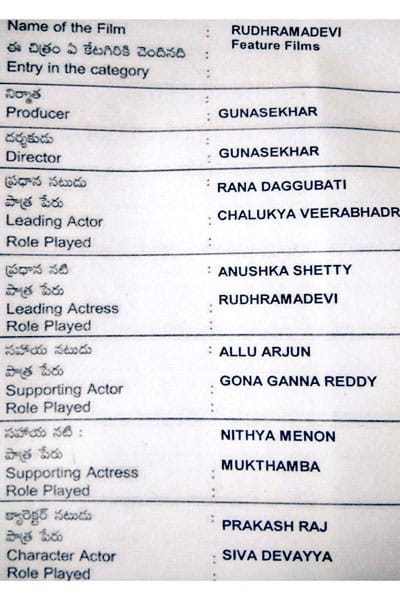 Looks like the controversies around the Nandi awards announced by the Andhra Pradesh government is not going to stop anywhere now and it will be extended to another level. While mega fans are openly bashing award committee members for the false game played by the jury members for sidetracking eligible movies and announcing awards to films, actors, technicians citing unacceptable silly answers when questioned by anyone. Today director Gunashekar and Racegurram producer has called for a press meet with media to convey their opinion about Nandi awards.
During the press meet, director Gunashekar has shown the application copy of their Rundhramadevi movie to Nandi awards and here it is clearly mentioned which actors are named after each category. Filmmakers have clearly mentioned Allu Arjun name for best supporting actor category and Prakash Raj name is given in character artist category.
But for best reasons known to the Nandi award community members, Allu Arjun is awarded best character artist award rather than best support actor for which he was nominated by the movie team. Neglecting mega family members to a large extent by not crediting to their hard work is very much evident here and this is not the first time but was seen through the years in Nandi awards. Film industry members are strongly believing that Allu Arjun was intentionally Insulted by Nandi award committee members by giving him character artist award while he was appealed the award for best supporting actor category. Make comments below about your stand where injustice is made towards Allu Arjun by Nandi award team or not ?