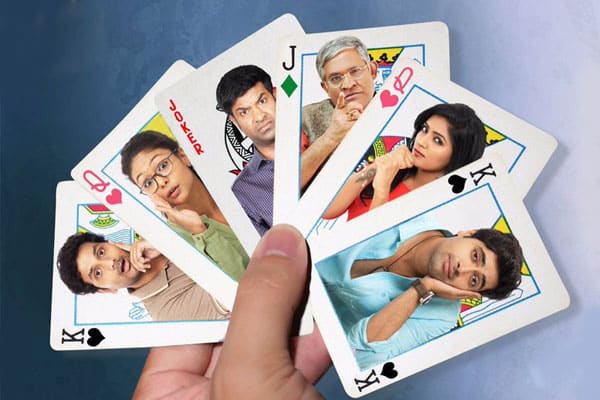 Ami Tumi Review rating
TELUGU360 RATING : 3/5
Ami Tumi telugu movie Review
Director Indraganti Mohan Krishna, who bagged a decent hit with Nani's Gentleman last year, is now coming up with a screwball comedy 'Ami Tumi' which stars Adivi Sesh , Avasarala Srinivas and Eesha in the lead roles. The hilarious trailers of the film have drawn the attention of audience and Mani Sharma's tunes have already become a talking point.
Let's see if the film can strike the right chord with the audience or not ?
Story ( Spoiler Free) :
Ami Thumi is a situational comedy film based on the story of two pairs of lovers. Deepika (Eesha) and Ananth (Adivi Sesh) are the first lead pair while Maya (Aditi) and Vijay (Avasarala Srinivas) is the other. The fun begins when a super catalyst character Sri Chilipi (Vennela Kishore) meets these four characters. As their families oppose the love, the two lead pairs plan to elope and in the process, Deepika tricks Sri Chilipi and seeks help from him. Rest of the story is how Sri helps them succeed.
Performances:
Adivi Sesh as Ananth, Avasarala Srinivas as Vijay are adequate in male lead roles. Though technically these two guys are heroes, the show stealer is Vennela Kishore as Sri Chilipi. Kishore got author backed lengthy role which he nailed. Ami Thumi is undoubtedly Vennela Kishore's career best performance.
Eesha has ease in acting and gave good performance. Another heroine, Aditi Myakal, of Posh Poris fame is weak link in the film. Tanikella Bharani who is known for controlled performance did too much of over-action in this film. Audience get annoyed by him in most of the scenes.
Analysis:
Indraganti who debuted with the National Film Award-winning 'Grahanam' and shined with 'Ashta Chemma' , 'Gentleman' is back again with comedy theme and succeeded to an extent. The film opens in sluggish manner as director takes time to establish the characters. Upon Vennela Kishore character arrival then movie picks up pace. Pre-Interval scene between Deepika's maid and Vennela Kishore is laughing riot. Vennela Kishore overshadows all other characters in the first half. A point to be noted is that there are no songs in first half of the film. Post interval too, Kishore's domination on the screen continues and movie runs smoothly without any boring moments. In the trailer, a particular scene gives us an impression that story might contain a gay thread but there is no such thread, except for just one comedy scene. The entire movie is clean comedy.
As per the story a major portion, almost 90 percent of 'Ami Thumi' has been filmed in just two locations Sheraton hotel suite and at Thanikella Bharani's house. It is herculean task to engage audience if the film has limited production cost and restricted location span. However, PG Vinda's cinematography and Indraganti's stylish shots covers up the low budget. The overall look is stylish and classy.
Biggest complaint with this genre- is though the content is watchable, they don't give masses a full cinematic experience. One reason being the less than 2-hour duration run, and the second partially due to the low production values.
Dialogues written by director himself are witty. Ensure to pay attention as they flow fast in the scene. Indraganti has his own style of wit. Second half contains couple of situational songs. Overall, Ami Thumi is a time pass product !
Positives :
-Vennela Kishore's one man show
-Witty dialogues
-Background score
-Telangana dialect of lead characters
Negatives :
– 'Making some one Bakara' type comedy is predictable at times
– Overaction of character artists including Thanikella Bharani is irritating
– No good songs
– Srinivas Avasarala is under utilised
Verdict:
Ami Thumi is a onetime watch. Don't try to find logics and just enjoy Indraganti's directorial situational comedy. For its minimum budget, there are good chances it recovers the cost from A centres.
TELUGU360 RATING : 3/5
Release Date : 9th June, 2017
Director : Mohan Krishna Indraganti
Music Director : Mani Sharma
Production : A Green Tea Productions
Cinematography : P G Vinda
Starring : Srinivas Avasarala, Adivi Sesh, Eesha, Aditi Myakal