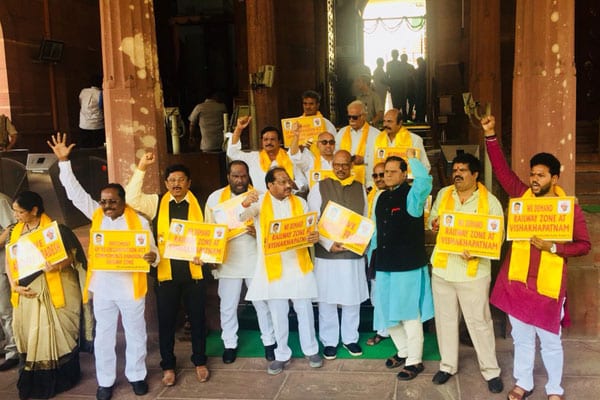 Notice for No confidence motion(NCM) is issued by TDP members in parliament last week in Lok Sabha. Speaker Sumitra Mahajan has been adjourning the house each day for last one week. Now Telugu people last hopes that this no confidence motion will ever be taken up for discussion. But it seems, there is one biggest mistake committed by political parties regarding NCM.
Article 118 of the Constitution permits each house of Parliament to make its own rules for conduct of business. Using this constitutional provision, Lok Sabha formulated Rule 198 that specified the procedure for a motion of no-confidence. Any member may give a written notice; the speaker shall read the motion of no-confidence in the House and ask all those persons to rise who favour that the motion be taken up. If there are 50 MPs in favour, the speaker allots a date for discussing the motion. MOST IMPORTANT thing is if such notice is given, it will take precedence than other business.
So, this is the biggest mistake done by AP political parties. This parliamentary sessions are intended for passing Annual Financial Statement (popularly called budget) for the financial year 2018-19. So, if notice for NCM is given before introducing the budget, speaker would have left with no option but to admit NCM.
Now what speaker of Lok Sabha is doing is ridiculous. She is adjourning the house day after day citing the reason like "din in the house". In fact she had option to suspend the members who are not allowing the house to proceed. But, had the notice for NCM been issued before introducing budget and the motion is pending with her, speaker wouldn't have dared to adjourn the house day after day- which looks like mockery on the face of democracy.
Our parties introduced this no confidence motion after BJP finished all that it wanted to do in these sessions i.e. passing budget. Now BJP doesn't care whether the house runs for rest of the days in order or not. YSRCP announced it will introduce NCM on 21st March. Though it tried to introduce much earlier than announced date, now it proved that date also already too late. TDP, late comer into the issue, has issued notice for NCM just before YSRCP introduces so that YSRCP doesn't get any credit for NCM. Pawan who told I will gather support of MPs is nowhere seen now. But one thing is he specifically asked Jagan to introduce NCM on March 4th only. Actually that was the first day of parliament sessions this season. If YSRCP dared to introduce NCM on 4th March itself, definitely fate of this NCM would have been much different!!
–Zuran
Telugu360 is always open for the best and bright journalists. If you are interested in full-time or freelance, email us at
Krishna@telugu360.com