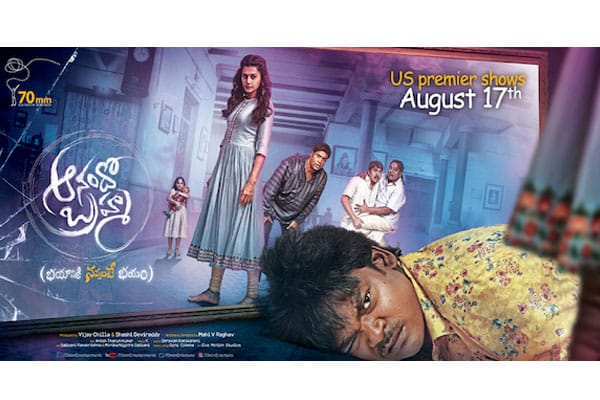 Telugu movie ANANDO BRAHMA is extremely high on Entertainment/Humor – though set on a small budget, there is nothing small about this movie; this movie is very high on story, content, taking, technical values etc..
The story/script is based on "Devudu deyyaniki moolam okkate – bhayam. Bhayam leni chota deyyam devudu rendu undavu" (The source of both God and ghost is fear; neither would exist without fear); the movie revolves around comedy and horror to generate humor; the intense excitement and positive vibe surrounding this movie has generated an overwhelming buzz among the audience.
The USP of the movie is that such a movie has never been made in Telugu or for that matter any other Indian language.
Taapsee Pannu, Srinivas Reddy, Vennala Kishore, Thagubothu Ramesh and Shakalaka Shankar are in top form and are ready to entertain you to the fullest with their impeccable comedy timing.
Some of the technical highlights include: Cinematography work was done using equipment used by the likes of hugely successful blockbusters "Bahubali"; Dolby Atmos sound design that captures every sound detail was used; Graphics work was done by the same team that worked for hugely successful movie "Ghazi".
ANANDO BRAHMA is a refreshingly clean entertainer – kids in US will have a chance to watch this entertaining movie before they get back to schools.
This movie will appeal to every age group – KIDS to ADULTS to SENIORS will thoroughly enjoy the movie.
#70mmAB #ANANDOBRAHMA in theaters on 18th August in India and US premier shows on 17th August.
This will be the biggest ever release for an Indian Horror comedy film in USA and the movie is being screened in 85+ locations in USA alone.
Hype and craze for the movie went up after pre-release event and it is evident in the premiere bookings in USA. First premiere shows in Dallas, TX, Milpitas, CA & Edison, NJ are sold out within hours of opening the booking.
We are adding more shows for premieres. Hurry up and book your tickets now. Ticket prices are same for premieres and regular shows.
Ticket prices set @ $12 Adults ($8 for Kids) for both premieres and regular shows.
#70mmAB – AnandoBrahma Screening Theaters Information: http://70mmentertainments.com/theatrelist
Enjoy this hilarious entertainer on big screen.
Press note released by: Indian Clicks, LLC