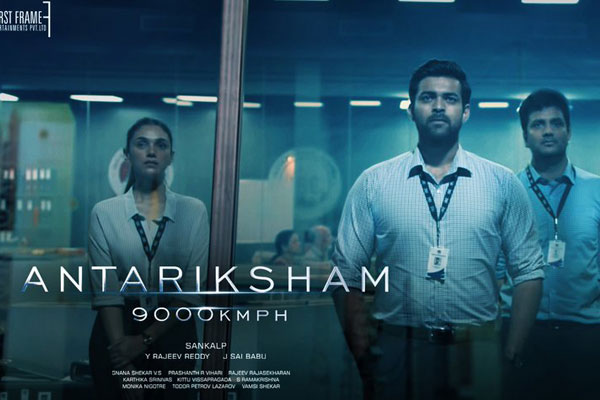 Antariksham review
T360 Rating — 2.75
After pushing the envelope of Telugu cinema with a submarine film Ghazi, talented director Sankalp Reddy is now ready with a space thriller for audience with Antariksham 9000kmph. Starring Varun Tej, Aditi Rao Hydari and Lavanya Tripati in the lead roles, Antariksham generated a good buzz
After interesting round of promotions, Antariksham has been released today. Let's find out the verdict.
Story:
Movie starts off in a Ground Space center based out of Andhra Pradesh and Mihira, a satellite, loses track and has the potential to wreath havoc bringing down global communication systems. As shown in the movie, there was no proper knowledge transfer done on the code and there is only person who can fix it. Riya (Aditya Rao Hydari) goes in search of Dev (Varun Tej) who used to work in the Space center 5 years back and quit due to some personal tragedy. Lavanya Tripati portrays as lady love for Dev in the flash back. Dev, despite some initial hesitance, comes onboard and is part of astronaut team that is tasked with fixing Mihira.
All of second half is in space. Dev, Riya along with two other (Raja Chebolu and Satyadev Kancharana) astronauts goes on a mission to fix Mihira and takes on additional tasks extempore. How they go about fixing and coming back forms crux of the climax.
Analysis:
First of all , Sankalp Reddy – Director of Ghazi needs a Hi-Fi for attempting a genre never tried in Tollywood. After a gripping film as Ghazi, Sankalp takes on another path-breaking attempt in Antariskham. Most of the first half was spent on establishing the premise on why a space mission is needed.  While movie plot is good till the point when the team accomplishes fixing issue with Mihira satellite, Mission Kinnera episode in the second half seems too farfetched, even after accounting for cinematic liberty. Patriotism angle and father/daughter sentiment is also attempted, but these scenes doesn't have any strong premised.
While Sankalp has done tons of research on space missions and code language used by astronauts, we felt some episodes are too farfetched.
Considering how regulated Space missions are, it is hard sell that there is no documentation for a project that was launched just 5 years back.
Varun Tej plans a trip to Moon extempore after fixing Mihira Satellite. Space missions are well regulated and are planned years ahead in advance. Every aspect of the journey is planned to the dot and even then there is a high risk that things go wrong. It is a hard sell that an astronaut makes decision while returning from space to go to Moon. Also, except for showing Mars at the end, director fails to convince why data is so crucial to take a high risk mission without any preparation.
Performances:
Irrespective of the result, Varun keeps trying different genres. Aditya Rao Hydari gets a good role and impresses as an astronaut. Lavanya Tripati gets a very short role in the first half. Rahman, who acted as the director of Space center does well. Srinivas Avasarala as manager in Space center gets an important role.
Technical Details:
Sankalp Reddy does a decent job as a director and sticks to the theme without adding unnecessary elements.  But as a young director, with full of promise, more is expected from him. There is lot of lag in second half and screen play / story by Sankalp and Vissapragada doesn't look airtight. Prashant Vihari does a good job and especially back ground music fits in well with the theme of the movie. However, VFX, which is a key aspect of the film is uneven. There are few scenes where you can see VFX came out well, but immediately you can see poor quality VFX.
Final Word:
While movie certainly deserves accolades for the attempt, commercially it might find limited appeal.
Rating: 2.75/5