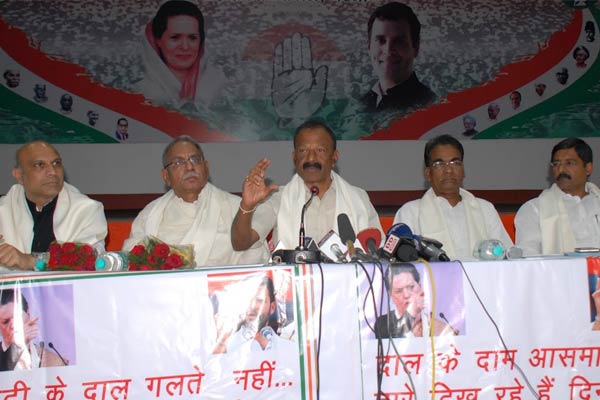 Andhra Pradesh Congress, after successfully conducting a campaign against the NDA and TDP governments for special category status (SCS), is now concentrating on broad-basing the party in the state. The state leadership is also successful in making the people forget and look forward for better future by taking up the campaign on how the NDA government backed out on the compensatory assurance of SCS, the UPA government announced to make up for the loss of AP following the bifurcation. The elusive SCS has become raison d'être for Congress to become a stree-smart party. Now, with the good will generated by its campaigns on SCS, farmers suicide, forcible land acquisition, non-completion of Rayalaseema projects etc, the party is on the path to regain the lost ground among various sections of society especially weaker section. If public turn out any indication for the influence a party enjoys among the people, the Rythu Garjana, APCC president N Raghuvira Reddy organized in Jaganreddy Gudem is super hit. Acknowledging the efforts Raghuvira putting to keep the party back on tracks, the AICC deputed AICC general secretary Thirunavukkarasu to rytu garjana held in J.Gudem. For a party which earned the wrath of the people for its decision to bifurcate Andhra Pradesh and which drew blank in 2014 election, the response it is getting to its meeting is amazing. Now, the party wants to take up the cause of backward classes in Andhra Pradesh. It came up for the discussion in the general body meeting held in Vijawada on Sunday. Tirunavukkarasu the huge response" we are getting to our programs shows how vexed are the people with anti-people policies of the TDP government and who knows what might happen in the next three and a half years."
He and other Congress party leaders attending the meeting took objection to recent comments of RSS chief Mohan Bhagwat regarding reservations and said that reservations in the present form should continue, as the main objective of those reservations – a level playing field for all – has not yet been achieved. They wanted the TDP, which is BJP's ally in the state, and the main opposition party YSRC to make their stance clear on the subject of reservations.
APCC president Raghuveera Reddy said state government had failed the BCs if one goes by the track record of the government in the last one and a half year. " It has not implemented even a single promise of the 120 poll promises TDP president Chandrababu Naidu made to the BCs in its election manifesto," Raghuvira said.
According to Raguvira the broken promises are :
* BC Commission is yet see the light of the day.
* Much touted BC sub-plan is yet to take a proper shape, budgetary
* Did not deliver on the promised 100 seats.
* No special package for artisanal communities especially weaver.
The APCC took objection to recent comments of RSS chief Mohan Bhagwat with regard to reservations. The party said, " The reservations in the present form should continue, as the main objective of the reservations is to provide a level playing field for those who are socially, culturally backward sections, which has not been achieved yet. It is high time that ruling TDP, BJP, it's ally in the state, and the main opposition party YSRC announced their stand in unequivocal terms on reservations."