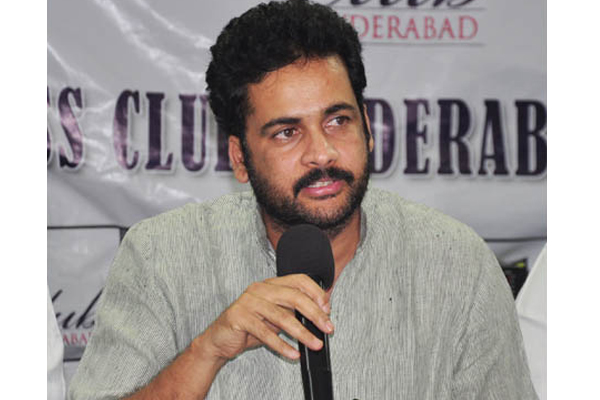 Massive IT raids on corporate companies in AP came in for lots of criticism from TDP leaders and political analysts while BJP leaders welcomed and described the raids as the way to deal strictly with corruption and irregularities in various projects.
Hero-turned-activist Sivaji said the BJP is hell bent on damaging and destroying trade and commerce in newly created AP by launching IT raids on leaders and corporate companies.
He asked BJP top leadership to 'encounter' AP CM Chandrababu Naidu once and for all, instead of taking revenge against all the populations of AP for the sake of hurting and liquidating TDP.
Sivaji blamed four 'durmaargulu' (evil doers) responsible for the problems of AP people right now and one of these evil doers has been staying in Delhi for gathering information on AP leaders and companies to finally give instructions to IT officials to conduct raids.
The actor challenged BJP MP GVL Narasimha Rao to tour Telangana and face the people's anger there by indulging in the sort of anti-region activities he was doing with AP right now.
He said that Friday's raids were aimed at searching houses of several ministers but the TDP leaders remained alert and moved into safe zone, otherwise such raids would have happened creating a nation-wide sensation.
Sivaji said that BJP wanted to create AP raids as a sensation to divert the attention of all Indians and NRIs from the multi-crore Rafael jet fighters scandal which has potential to bring down BJP at the Centre.
AP Social Welfare Minister Nakka Anand Babu said the BJP's IT raids exposed the level of degraded politics that party would stoop to and BJP was playing a dangerous mind game with the country's polity by launching IT raids against political opponents.
Anand wondered why such raids were not being conducted against huge corporate giants at national level despite their names figuring in various multi-crore sandals frequently.
BJP MLC Somu Veerraju is now leading BJP criticism against TDP after reports of party floor leader Vishnu Kumar Raju shifting loyalties to TDP.
Veerraju asserted that TDP would be washed away in the floods of corruption and ill-gotten wealth in the 2019 elections and its leaders would gain nothing from claiming credit for Polaravam project which was actually funded by BJP government at the centre as it was a national project.