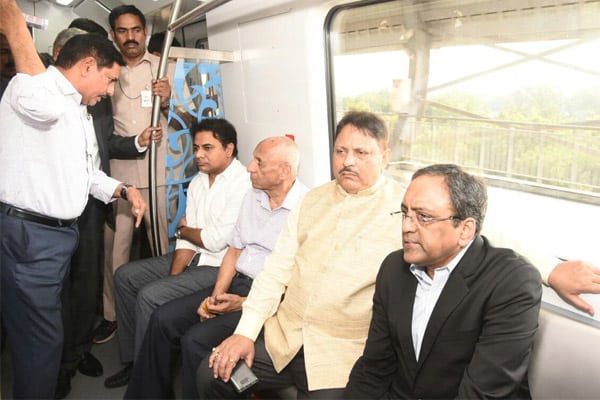 Narasimhan & KTR Take A Ride On Hyd Metro Rail
Municipal Administration and Urban Development Minister KT Rama Rao along with the Governor of two Telugu States, ESL Narasimhan traveled in the Hyderabad Metro Rail on Wednesday. The duo inspected the works going on for the project. The Metro Rail is scheduled for a launch on November 28.
The Governor and Minister traveled in the Metro service from SR Nagar to Miyapur. They were even accompanied by the Metro officials. Chief Secretary SP Singh and Municipal Secretary Navin Mittal, accompanied the VVIP passengers, apart from HMRL Managing Director NVS Reddy.
The statutory inspection of Overhead Electric Traction System (OETS) between Begumpet to SR Nagar through Ameerpet Metro stations was conducted by DVS Raju, Chief Electrical Inspector (CEIG), Government of India, for Hyderabad Metro Rail on Monday. Mr. Raju accorded sanction for energisation of the OETS.
The energisation of the OETS facilitated movement of trains for trial runs from Mettuguda to SR Nagar via the interchange station at Ameerpet and there by connecting the entire stretch for commissioning i.e., from Nagole to Miyapur. The trial runs from Begumpet to Ameerpet were held on Tuesday.