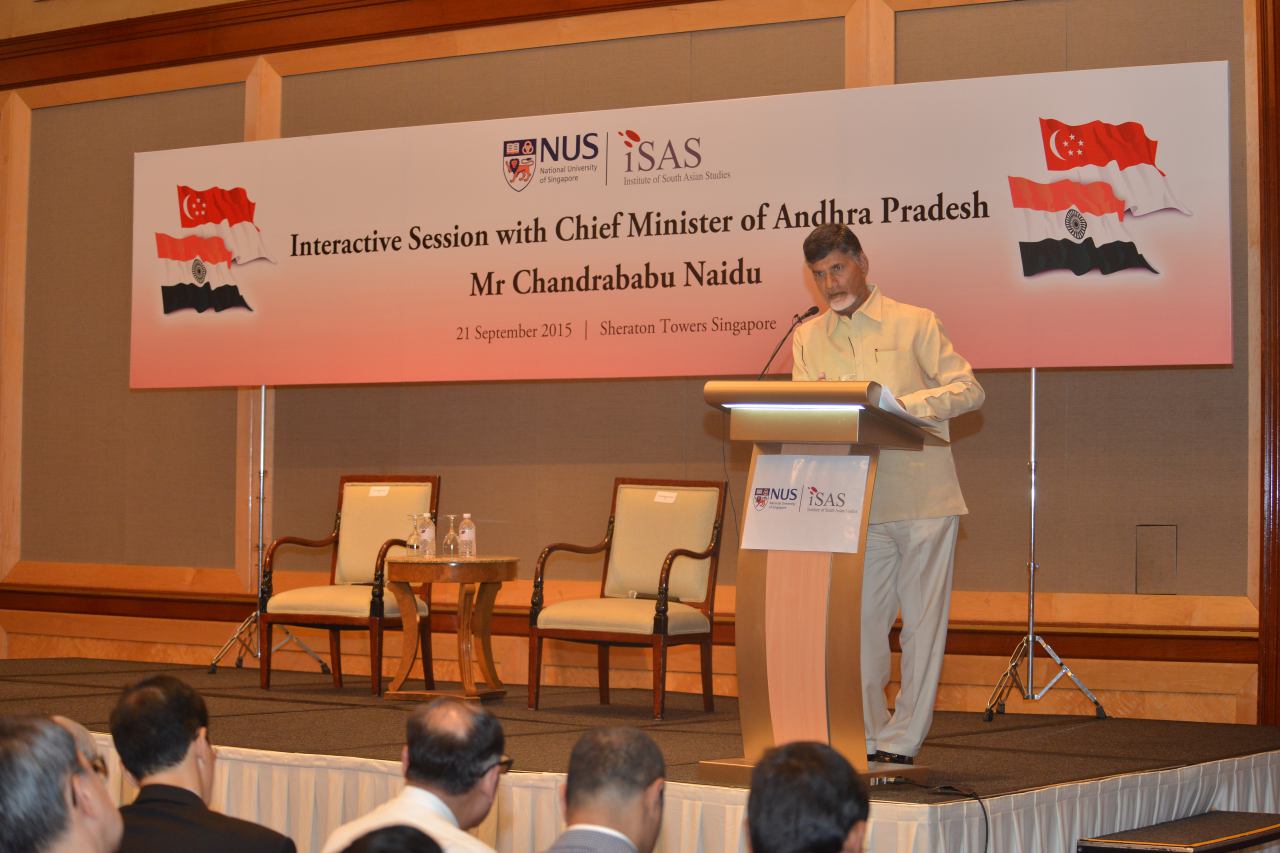 Chief Minister Chandrababu Naidu said his objective was to transform Andhra Pradesh into Silicon Valley of India. Addressing an impressive gathering at the Institute of South Asian Studies (ISAS) in Singapore on the second day of his trip to Island Nation, he said India was moving in the right direction and along with China and the US, India would become the third leading economy in the world by 2050.
"We have a long sea coast. We are the only state with such a long coastline on the East and we are planning to develop this as Logistics Hub of Southeast Asia," he added. Then chief minister announced to the elite gathering of the Institute amid applause how he took up task of linking to mighty rivers of South India namely Godavari ad Krishna. Despite challenges, the Chief Minister said, the government sees capital building as one of the greatest advantages for the state. "Indian Prime Minister Narendra Modi has accepted our invitation to lay the foundation for Amaravati on October 22nd. I will be meeting Singapore Prime Minister tomorrow, to invite him for the historic occasion on October 22nd," he said.
"I'm also happy to inform you that our state has been ranked second in 'Ease of Doing Business' by World Bank., after Gujarat. I'm confident that we will rise to the top spot next year. We will be a distant number one."
Meanwhile, an entrepreneur, who has an industry in AP, said he had suffered from lack of power for last five years. Naidu responded to this by stating that the stage had given priority to power sector. "Now, our T & D losses stand at 10.4%. We will soon bring it down to to single digit."
Q&A session
Q: Do you think that the following democratic tradition will constrain the efforts for economic development ? What assurance can you give us that politics won't trouble the new state 's efforts towards development?
Naidu: "it all depends on the quality of leadership. A motivating leadership and stable leadership can balance development. For example: The previous government at the Centre brought in the Land Acquisition Act. It made land acquisition impossible. But, to create a win-win situation for everyone in the state, I adopted the land pooling system where people responded to my call. We have procured 33,000 acres of land with land owners voluntarily giving their land, with the hope of getting better value for their land in future. Despite being a Democracy, we have completed such a massive task with people's support."
Q: What would AP do to help start-ups?
Naidu: I want to make Andhra Pradesh the Silicon Valley of India. In my last stint as the Chief Minister, I had promoted a lot of entrepreneurs. Now, I want to start-ups and MSMEs We already have established a Start-up Village in Visakhapatnam. We are also going to start the Innovation Fund. That apart, a venture capital fund and incubation centre are on cards.
Q: How are you balancing environmental concerns with fast clearances of projects? Can you do environmental impact assessments in such short time?
Naidu: We will take all measures for environmental assessments and follow regulations. Other routine clearances will be granted within 21 days. For a greener state, we will go in for massive plantation.
Q: A lot of students go abroad from India- most from AP. What steps do you take to retain them in Andhra Pradesh? What steps do you take to encourage research in Amaravati especially bioengineering?
Naidu: I want to make AP an education hub. In my previous stint, I have increased the number of engineering colleges from 30 to 300. We also brought a lot of focus on biotechnology.
Q: What are you doing to get good universities to AP?
Naidu: I'm networking with many world-class universities. And, we are also inviting foreign faculty members to come as visiting professors to our colleges/universities.