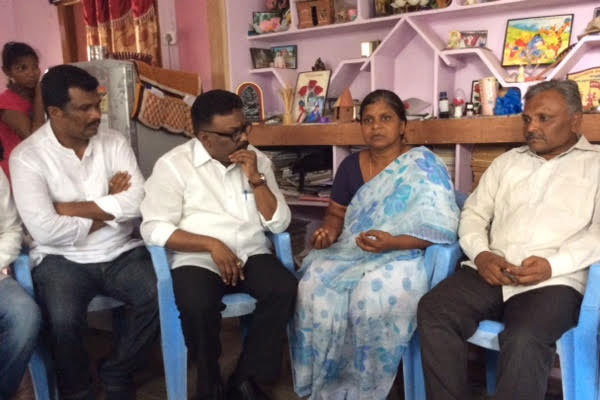 Telangana Congress today demanded CBI inquiry or a judicial inquiry by a sitting High Court Judge into the fake encounter by Telangana police in which two Maoist party members– Sruthi and Vidyasagar Reddy killed. The party which sent a team of leaders to meet the family members of Sruthi, an M.Tech student, in Vaddepalli, Warangal, on Moday. The team consisting of chief spokesperson Dr Sravan Dasoju, and spokespersson Addanki Dayakar, Gosu Srinivasa Yadav, Vijay, Rajak, Ramesh Mudiraj, Charan and Kailash Netha, met Tangella Sudarshan and Ramadevi, parents of Sruthi and expressed condolences and solidarity for their fight to get the culprits punished. Incidentally, Sudarshan's entire family participated in the Telangana movement very actively. A known poet , he penned about 40 songs for Telangana movement. His family even participated in the Million March, and Sagaraharam in Hyderabad.
Talking to Telugu360.com from Vaddepalli, Dr Sravan Dasojus demanded state Government own up the responsibility and immediately refer the case to CBI. " Sruthi's murder is not a case of simple fake encounter. It shows the new height in the brutality of state violence. It's a new path of the new state and new government in addressing the issue of social justice," he said. Dr Sravan recalled how Sudarshan interacted with him on the Tank Bund of Hyderabad on the day of Million March, organized by Political JAC.
Instead of studying the reasons that were driving the youth towards Maoist politics even after the achievement of separate Telangana state, Dr Sravan said, the TRS government, which once claimed to have inspired from the Maoist politics, had chosen the most inhuman and brutal ways to kill the youth with Maoist sympathizers. "Encounter have been taking place for ages. But the new Telangana state, which was achieved after so much sacrifice, is perusing killer-politics in the state," he added.
Recalling KCR's statement that Maoist agenda was his agenda, Dr Sravan said, the way the young and highly educated lady was killed after pouring acid in her private parts, had thoroughly exposed the true color of the government politics- politics arrogance and hegemony.
The delegation demanded the strict action against the police involved in brutal killing of the Sruthi lest people would think that it was not the police action but the policy of the TRS government.