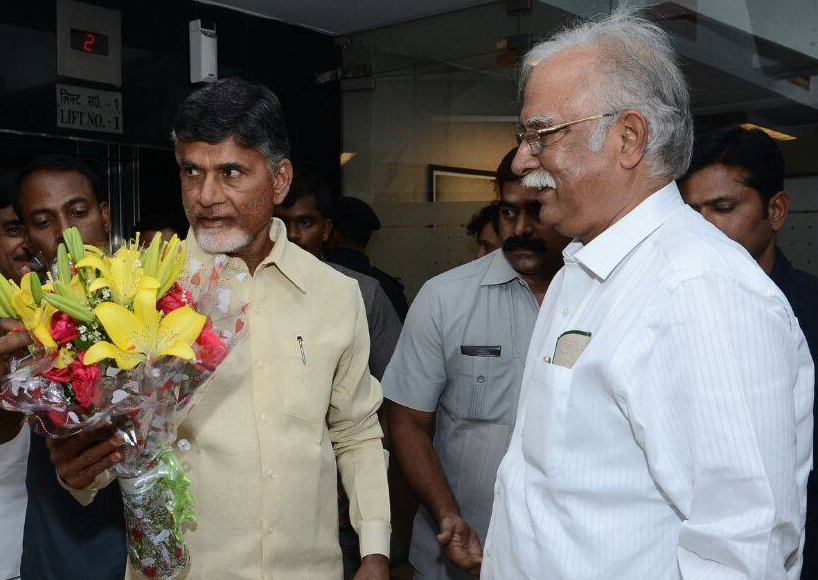 Ashok Gajapati Raju, arguably one of the honest politicians in the country, is miffed. Union civil aviation minister Ashok Gajaparati told in no uncertain terms that if TDP boss was unhappy and thinks he was not able to get funds to state from center though he is a minister in Modi's cabinet, he would have no qualms to quit.
This happened in the customary parliamentary party meeting of Telugu Desam which party president N Chandrababu Naidi holds on the eve of the every parliament session.This time the meeting was held in Vijayawada.
This meeting was meant to discuss the issues pending before the centre for long time. The issue of non-implementation of assurances given to the state at the time bifurcation of the Andhra Pradesh figured prominently and many MPs expressed their displeasure at centre's casual approach towards these promises.
The debate also turned to the delay in the expansion of Gannavaram airport near Viayawada and getting funds released for proposed airports in the district headquarters which the state earmarked for the development of airports. The issue had been raised by Raju's junior colleage Sujana Chowdary and, minister of state for science and technology as well as some MPs. Raju clarified to the meeting that the delay was caused by the delay in the land acquisition by the state government.
TDP president and N Chandrababu Naidu felt that the process of expansion of airports in the State was being delayed because of non-payment of compensation to the local people . Naidu reportedly asked civil aviation minister Raju to prevail upon the Centre to release required funds for the same.
Raju, without mincing the words, told Naidu that he could not pressurize the Centre beyond a limit for funds for land acquisition because such a promise was not included in the AP Reorganization Act.
Pointing at the inordinate delay in releasing the funds promised by the Centre, Naidu reportedly told union minister, slightly resentfully, that, "Being a cabinet Minister it is incumbent upon you to take initiative and pressurize the centre to get more funds. Lest, people will misunderstand us."
Raju told the TDP president that, "Sir, I am putting all energies at my command. At the centre, every file goes to the prime minister. Prime Minister's Office raises too many queries and we are replying. This process is causing delay. If the party feels that I am not putting enough pressure, I am ready to quit without any ill will".
Media reports said later the union minister was conspicuous by his absence at a couple of meetings in which chief minister Naidu participated.