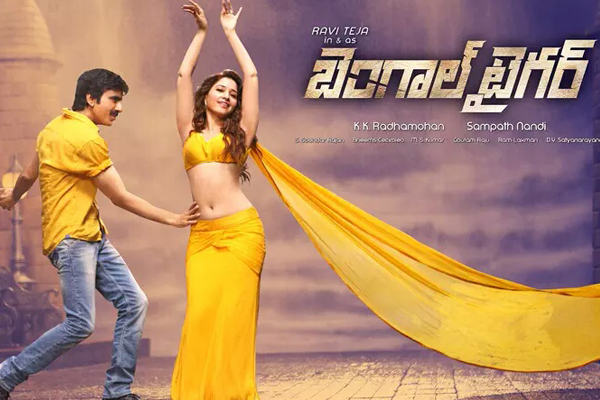 Bengal Tiger Movie Review :
Bengal Tiger, starring Raviteja, Raashi Khanna and Tamannah Bhatia in lead roles,is directed by Sampath Nandi. K. K. Radha Mohan produced the film under the banner Sri Satya Sai Arts. Sampath Nandi who scored a mass hit with Ram Charan starrer "Racha" has joined hands with Mass Maharaja Raviteja and obviously raised expectations. Bengal Tiger is all set to generate decent openings at the Box office due to mass songs.Let us see if Mass Maharaja is back in game or not.
Story ( No Spoilers) :
Aakash (Raviteja) hails from a village Atreyapuram in Godavari district. Challenged by a girl, who rejects him in "Pelli Chupulu" citing he is just a common man, Aakash wants to become a celebrity or at least get some media attention by doing something crazy stuff. In that process, he throws stone on a cabinet minister ( Sayaji Shinde) who visits his village for election campaign. Thus Aakash gets media attention, minister's attention as well and ends up in Jail. But, in a sequence of events, realizing Aakash's smartness, same minister hires him to work in his team (mainly as guard)for salary. Later, Home minister Siddhappa (Rao Ramesh) who is looking for a smart bodyguard like person for his family, especially for his daughter( Raashi Khanna) hires Aakash for one time task. Impressed by his work Home minister offers a position with him, Aakash quits working for the other minister. In a similar fashion, Aakash climbs up the ladder with access to chief minister. As run-of-mill Tollywood stories go, needless to say Raashi Khanna, Tamannah both loves Aakash and Aakash plays mind game with both lovely ladies.
What is Aakash's main motive behind reaching CM Office? Do Tamannah or Raashi Khanna really love Raviteja character or any other mind games involved? How the revenge formula unveils? Watch it on big screen
What worked well?
Though not a creative story, writer and director Mr.Sampath Nandi has succeeded in adding a dash of freshness to the story and scenes' treatment in first half. As in many Ravi Teja movies, hero characterization is peculiar and good for major part of the movie. Prudhvi (30 years in industry fame) played a role of brother of Home Minister. His character, as wannabe hero of Tollywood, is rib tickling. Prudhvi is a talented artist – he's definitely going places. Without much violence and noise, director handled mass-appealing challenges-fights well. Both the heroines are liberal in skin show, knowing mass pulse Sampath Nandi did not hesitate to make use of it. Visual feast is assured for Milky beauty Tamannah fans. However, it is high time for Tamannah to shed few KGs of weight.
For all the live updates and Box office information, follow us at @telugu360 https://twitter.com/telugu360
There are few dialogues got good response :
"Yedige vaadi kanna, Yedigina Vadu ayithe baguntundhi amma… " Rao Ramesh with his daughter about prospective bridegroom
"NTR Chandrababu ki tana kooturu ni ichina, Allu Ramalingayya Chiranjeevi ki ichina vaari loni pratibha ni mundhe gurthinchi Nannaa" Raashi Khanna with her dad
"Powerstar monna elections lo oka party ki support chesthe janam vote lu guddhaaru"
Boman Irani,Rao Ramesh, Sayaji Shinde played their roles well. Music by Bheems Ceciroleo strikes a chord with the masses. Songs were colorfully picturized and their order is : "Tiger..Bengal Tiger" , "Asia Khandam lo" ,"Hey Banchani" ,"Chupula Tho Deepaalaa" and "Raaye Raaye Chinni".
The photography is adequate and the makers have not compromised on bringing a quality product to the audience. The production values are decent.
 What should have been better?
Second half, especially after the game between CM and Aakash begins, movie is a hackneyed plot used in myriad movies. The whole story idea is to have good mind game between them, which the director was not able to drive home correctly. A drag in second half, and run-of-mill pre-climax and climax episodes spoiled the chances of taking the film to the next film.
 RaviTeja's , though energy levels are more or less same, aged looks are distinctly visible. Brahmanandam is utterly wasted. It's kind of surprise how he accepted such wasteful small role. Over references about Pawan Kalyan capabilities such as claiming him as bigger star than Rajanikanth.  CM vs Common Man scenes look unrealistic.
Verdict : 
Bengal Tiger is an average fare ,one time watch for commercial movie lovers. The entertaining first half will go well with the audience, but the routine second half spoils the flow of the film. Overall, the box-office range of the film in this off season might be just decent enough.
Tag Line : 
Routine Mass Entertainer with a dash of difference !
Telugu360.com Rating 2.75/5
For all the live updates and Box office information, like us on Facebook. https://www.facebook.com/telugu360