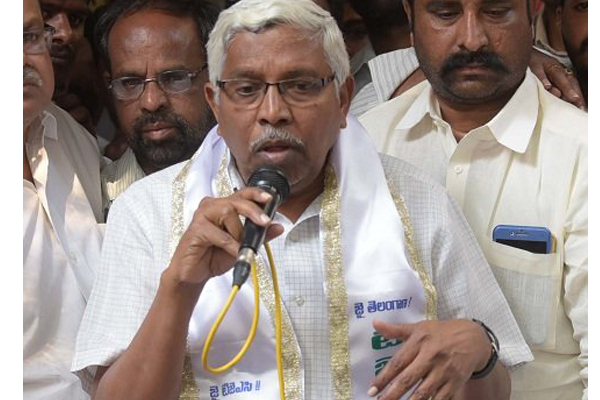 In initial days, Congress Telangana leaders gave an impression that they would fully accommodate and get along with other partners of Mahakutami in a friendly manner.
As December polls come closer, the same leaders are giving sleepless nights to alliance partners especially to Kodandaram and his Telangana Jana Samithi. They are not giving any solution to deadlock in seat sharing talks and they keep on dragging the issue till last minute in the name of finding winning candidates.
Now the situation has come to such a sorry pass that Kodandaram will have to agree for whatever Congress leaders will offer. At this crucial phase of electioneering, the Professor and his self-respect crusaders cannot afford to break ties with Congress and contest alone in early polls. Moreover, they are yet to get an election symbol of their own to effectively go into the public and make it popular at this stage.
From the beginning, Kodandaram has bargained hard for at least 20 seats out of 119 without realising how difficult it would be to deal with and convince the shrewd Congress leadership. Now Congress leaders seem to give lowest possible number of seats to TJS and this may be less than 8.
On his part, TDP leader Chandrababu Naidu moved strategically beginning his bargain from 25 seats and finally demanding at least 15 seats as TDP won as many seats in 2014 elections. Naidu used his experience and political logic which forced Congress not to antagonise or outsmart TDP at this stage. As a result, Congress is thinking of giving 10 to 12 seats to TDP now.
But Kodandaram and his TJS party's fate has become a subject of curious discussion all over Telangana. As an analyst has said it, Congress has returned to its old ways already and it has forgot immediate task of ensuring unity to unseat KCR. By weakening Kodandaram after raising his hopes till now, Congress is causing damage to Mahakutami's overall prospects.
Eventually, it is like Bhasmasura hastam that destroys everyone on whose head it falls. And, Congress will be a victim of its own mistakes.