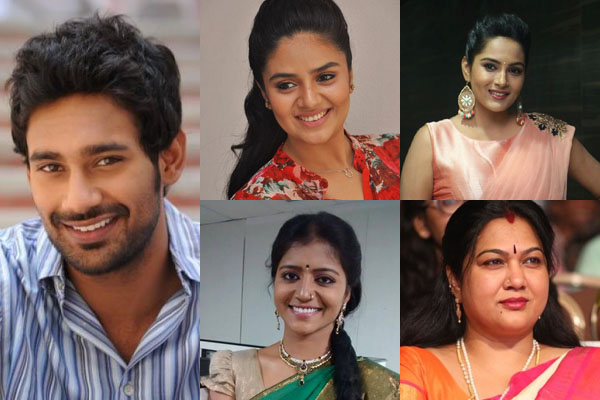 The much hyped reality show Bigg boss Telugu is all set to entertain Telugu audience once again. 'King' Nagarjuna is turning Bigg boss host this time. He has earlier handled Meelo Evaru Koteeswarudu' show very successfully and made his mark felt. He is now taking over the season 3 in Telugu. Audience are very keen to know who are the contestants but the makers have kept the cards close to their chest as usual. But as per the reports doing rounds in tinsel town, following are some of the contestants in Bigg boss 3 Telugu;
Hero Varun Sandesh:
Varun Sandesh, who played hero roles in Happy Days, Kotha Bangaru Lokam, will be participating in the show this time. Bigg Boss always had in the house at least one or two actors who played hero roles in movies. Bigg Boss 1 had Shiva Balaji and Navdeep while Bigg boss 2 had Tanish and Samrat. This season, Varun Sandesh is there in the show.
Actress Hema:
Actress Hema, who is known for her excellent comic timing in the movies like Malliswari and Athadu will be participating in this show this time, if the reports are to be believed. She is one of the highly successful character artistes in Tollywood
Srimukhi:
Anchor Srimukhi who became very popular with ETV's Pataas show is all set to participate in Bigg boss, as per reports. She is one anchor who got extremely high popularity in last couple of years. Her terrific comedy sense and spontaneity are great assets and she will be definitely a very strong contestant for the title.
Himaja:
She is also well known face for TV audience. She acted in brief roles in movies like Mahesh's Spyder, Ram Charan's Vinaya Vidheya Rama, Sathamanam Bhavati etc. She got fame from the highly successful TV serial in ZEE Telugu 'Konchem Ishtam and Konchem Kashtam' couple of years back.
Anchor Savithri
If we say anchor Savitri, one may not immediately recognize but many Telugu people know her as anchor for Bithiri Satti's Teenmar program in V6. Her anchoring in Telangana accent is huge success and she had very good fan following.
These are the five names that are doing rounds in TV and media circles. Remaining names are yet to be finalized. Even though Bigg boss team has started negotiations with many celebrities, final confirmation is yet to be given for many of them. As per reports, there will be no common man category this time. Show will start airing in couple of weeks.