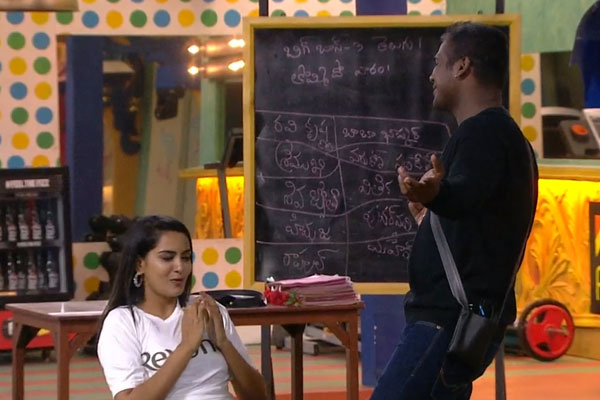 Bigg boss today continued yesterday's 'College task' in which Baba Bhaskar, Vitika and Varun are lecturers and remaining housemates are students.
As part of the task, students were conducted some exams also. Before that, Shiva Jyothy cried a lot because of Baba Bhaskar's puppy story conveyed that she is emotionally weak. However, her crying is not creating sympathy nowadays. Later, Bigg boss announced a task in which housemates have to enact a short but romantic scene and Vitika & Baba will judge which pair is the most romantic. As this task is created to promote a soap, the scenes looked artificial. Mahesh & Punarnavi, Mahesh & Shiva Jyothy, Ravi & Sreemukhi and Rahul & Himaja acted different scenes. Baba and Vitika opined that Rahul-Himaja got good chemistry. After this, they both performed for a few romantic songs.
As the task was created to promote particular product, there was no emotional connect. However, the housemates with their performance made the episode watchable. It was just an average episode.