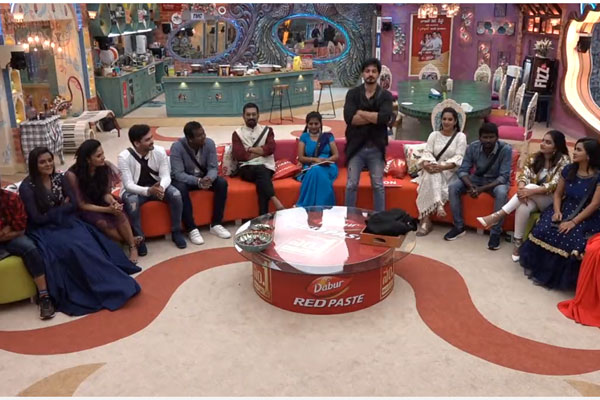 Bigg boss season 3 is engaging Telugu audience and getting record TRP ratings every week. Nagarjuna's effortless hosting as well as competitive contestants make this show very interesting.
Today, Nagarjuna played a game with housemates to decide whether they unmasked themselves to express their feelings openly or not. As per this game, the housemates who are nominated are considered accused and some other housemate will be playing the role of prosecutor. This prosecutor needs to explain the reasons why the accused should be evicted from the house. Depending on the prosecutor's version, and accused version, Nagarjuna and other housemates decide whether they both are still hiding their emotions behind a mask or genuinely expressing themselves.
Later there was another fun game in which each housemate has to choose their villain from other housemates and deliver a punch dialogue on them. Both these games entertained the audience.
Nominations:
Today – Sreemukhi, Baba Bhaskar,Ravi, Rahul and Rohini were in danger zone at the beginning the show. Sreemukhi, Baba Bhaskar and Ravi got saved in the first half of the episode, leaving Rohini and Rahul to be the last two contenders facing the danger of eviction. Earlier, there were reports that Bigg boss wants to save Rahul even though he got least percentage of votes for the sake of ratings.
Click here: https://www.telugu360.com/bigg-boss-tidbits-will-bigg-boss-save-rahul-for-the-sake-of-ratings/
It is known news that Rahul and Punarnavi's track has been enjoyed by some sections of audience and they are giving footage to the show with this track. There have been reports that Rohini got better voting than Shivajyothy and Rahul but Bigg boss may save Rahul for the sake of this footage and ratings. Moreover, Rohini was not in nominations as per initial list but as she violated rules by discussing about nominations, Bigg boss directly nominated her. Her elimination is expected to give strong warning to other housemates to not violate rules. Bigg boss saving Rahul at the cost of other housemates Only twist in the prediction is that Bigg boss saved Shivajyothy instead of Rohini to save Rahul, as per the reports. Even the mock polls in various websites and dailies also showed Rahul getting least votes lagging behind Shivajyothy and Rohini.
After nominations, Rohini was asked to score each of the contestants out of 100 marks. She gave thousand out of 100 for Baba Bhaskar and gave good marks to Shivajyothy, Varun, Ashu and Ravi. But she gave least marks to Sreemukhi and Mahesh. Overall it was enjoyable episode.