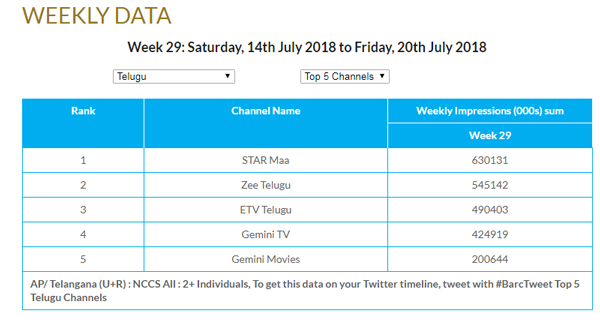 BARC released latest TRPs today and Bigg boss got very good ratings in the latest week. As per the latest ratings, STAR MAA as well as Bigg boss gained huge as they got very good ratings.
Bigg boss started fantastic, slipped huge later, redeemed now:
MAA TV got 630131 impressions for latest week (Week 29th – from 14th July 2018 to 20th July 2018) while previous week (Week 28th) it has only 534453 impressions i.e. 18% improvement which is considered huge. BIGG BOSS show also improved from 6.5 to 6.8 TVR for the overall week. Sunday episode of Nani got even terrific rating, i.e. 11 TVR. Bigg boss 2 started fantastic with initial rating of 15.05 and weekly average TVR was 7.93. But later it gradually slipped to 2.86 weekly rating as couple of episodes were dull during that week. But later STAR MAA seems to have corrected the mistakes as is evident from latest rating, which is 6.8. Improving from 2.86 to 6.8 in couple of weeks is no easy task.
What helped Bigg boss redeem the TRPs:
Some web media and youtube channels, while analyzing the gains in latest TRPs were saying that, it is after Tejaswi left the show, TRPs improved. One can't help but laugh on the naivety of this logic. BARC usually announces ratings for last week evry friday, i.e. on 26th July, they announce the ratings for the week 14th-20th July. On 14th July, Nani took serious dig at housemates and slammed them for not playing game seriously and for various other reasons. ( https://www.telugu360.com/bigg-boss-2-telugu-tidbits-nani-takes-a-serious-dig-on-housemates/ ). On 15th July, Bhanu Sree evicted from house and audience were so curious on that week's eviction after shocking episode in which Bhanu alleged Kaushal touching her inappropriately during that week. On 19th and 20th July, anchor Pradeep was in Big boss show and those 2 episodes were huge hits.
Fluctuations in TRPs were common for Bigg boss, including NTR's episodes:
Bigg boss format itself is like that – initial episodes will have high curiosity among audience and so high TRPs because people are interested to know who the contestants are and how they behave. But then, TRPs for couple of weeks will usually fall as it becomes regular for some weeks. Then as weak candidates get evicted week after week, tempo builds up again and final couple of weeks will be intense as competition will be fierce in the final 3-4 weeks. Bigg boss-1 season that has huge star like NTR as host also followed the same trend and in the middle of the season, at some point of time, it almost got poor ratings on Sunday's NTR episodes too. Remember Rana's Yaari number-1 show surpassed NTR's bigg boss episode when both episodes telecast on same day same time. However, during final weeks, Bigg boss gained as people got curious on who will win the title.
Anyway, good going for Bigg boss-2 now but it remains tough challenge for Bigg boss makers and STAR MAA to retain these ratings.
-ZURAN
Telugu360 is always open for the best and bright journalists. If you are interested in full-time or freelance, email us at
Krishna@telugu360.com