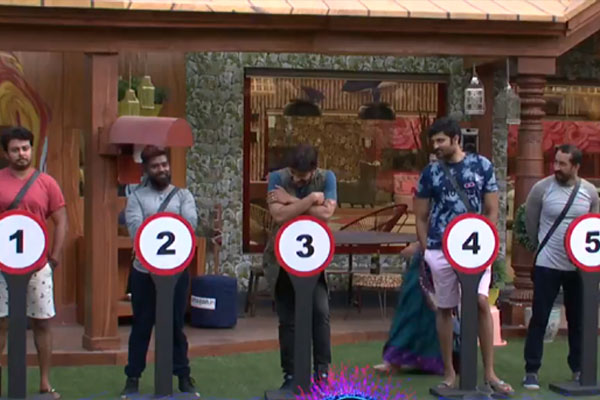 Bigg Boss Telugu season started more than 50 days back with 16 housemates. However with recent re-entry of Nutan Naidu and Shyamala into the house and wild card entries like Nandini and Pooja, now after 50 days of the show, there are still 14 contestants in the house. By seeing this numbers, speculations started whether there will be "double dhamaka" this weekend with two contestants leaving the house.
5 contestants nominated for eviction this week.
Babu gogineni
Deepthi nallamothu
Kaushal
Nandini
Ganesh
Nomination process:
During nominations of this week Bigg Boss played a small trick. Bigg Boss asked contestants to choose their own rankings in the house. As there were 12 contestants in the house at that time (Nutan Naidu and Shyamala did not join the house yet), contestants have to choose a rank for themselves among 12 ranks.
Once they chose their rankings, Bigg Boss told whoever ranked themselves poor are directly nominated for eviction. So whoever ranked themselves from the ranks between 7 and 12 are nominated for eviction. But Geetha Madhuri, captain of the house, and Pooja, the latest wild card entry into the house, were given exception by Bigg Boss.
Deepthi dragged Kaushal into nominations:
Kaushal ranked himself at third place and Deepthi Nallamothu also ranked herself at third place. As both were standing at same place, and couldn't reconcile themselves even after Bigg Boss's request, he nominated both of them for eviction. To be frank Deepthi nallamothu unnecessarily dragged Kaushal into nomination this week. She initially chose 10 th rank but later changed her mind and came to 3rd rank, the place where Kaushal is standing, and stood beside him. Kaushal even asked why you are sharing the same rank as mine. But both of them got nominated for eviction.
Other housemates cheering for Kaushal's nomination:
Later other housemates were seen cheering and laughing out loud as Deepthi pulled Kaushal into nomination Because had she stayed at her original ranking , only she would have been in nomination but by changing her decision she pulled Kaushal also into nomination.
Who are not really in danger zone :
Now among the five, who are nominated Kaushal is at better position because he initially chose third rank for himself but got nominated because of others (Deepthi's) decision. Because of all this, he got sympathy of audience. Going by the same logic, Deepti is at bad position because she not only dragged Kaushal into nomination but she also seen enjoying dragging Kaushal into nomination. Ganesh is also in better position, not because of his talent but others who got nominated are in more dangerous position than him. But his passiveness will take a toll on him in future, if not now.
Who are in danger zone:
Deepthi Nallamothu, Babu gogineni and Nandini are in dangerous position. Deepthi's dillydallying during the task of choosing rank put her in danger zone. Babu gogineni's recent outbursts and his arguments regarding Rajamouli topic, all put him in danger zone(https://www.telugu360.com/bigg-boss-tidbits-rajamoulis-atheism-was-central-topic-in-show-this-week/). Nandini has been passive since beginning. She couldn't leave her mark in most of the episodes except the one task of movie making. So, media and social media predicting one of these three or maybe two of these three will get evicted this weekend.
But Big Boss show caption is "Anything can happen" So we can't really predict what happens in Big Boss. But as per audience reaction at this moment and by observing possibility of double Dhamaka, 2 out of these 3 may get evicted this weekend. We will have to wait and see who is going to leave the house this weekend.
ZURAN (@CriticZuran)