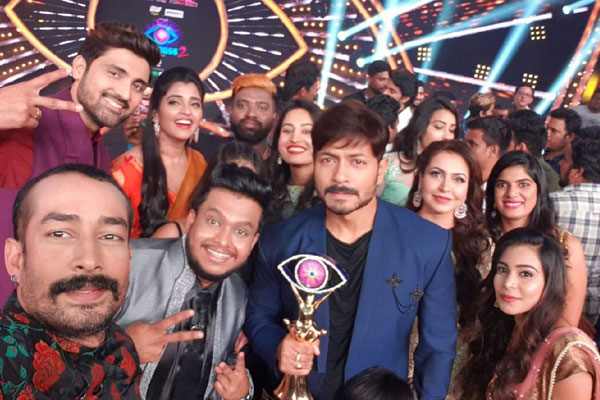 BiggBoss telugu2 winner Kaushal
At last suspense is revealed. Kaushal became the winner of Big Boss Telugu season 2. Geeta Madhuri, Deepthi, Tanish and Samrat reached the Finale battle along with Kaushal. But finally Kaushal has emerged as the winner.
Kaushal background:
Kaushal entered into the show as 11th contestant. He entered the house as an underdog but within the span of 16 weeks his life got completely transformed. Before the show he was just a supporting actor in TV serials. Now he emerged as favorite for many. He was a model and contested in Mr India contest in 1998 too. He featured in many Telugu movies in supporting roles. He is the CEO of The Looks productions that does event management and celebrity wedding planning events.
Click here for more details about Kaushal's background
The episode that completely changed the dynamics of show and Kaushal's fate:
Bigg Boss started on 10th June. The episode on 22nd June completely transformed the show. Telugu360 reported it as the most ferocious episode in Bigg Boss Telugu till date (https://www.telugu360.com/kaushal-turns-aggressive-most-ferocious-episode-in-bigg-boss-2-telugu-till-date/). The argument started after Tejaswi commented some people are wasting food while others, who are joining the dinner late, are starving. Kaushal reacted strongly on this. Later, Kireeti tried to squeeze lemon into Kaushal's eyes accusing he was misbehaving with woman housemates. These two incidents earned lot of sympathy towards Kaushal and fans went on to start "Kaushal army" to vote for him.
Click for details of the episode that changed Kaushal's fate
Kaushal army's full-fledged support
Kaushal army that formed to help Kaushal win the title stood for him in each and every moment. Ever since it formed, whoever fought with Kaushal during the week, got evicted in their next nomination. Bhanusree, Tejswi and Babu Gogineni eviction helped understand the remaining housemates what might be happening outside. Later, Syamala and Nutan Naidu entered the show as Kaushal army voted for them in huge numbers to ensure Tejaswi or Bhanusree doesn't go back into house. Housemates then got complete picture of what is happening outside. Kaushal army even did 2K rallies and blood donation camps in support of Kaushal. Even when Bigg boss telecast negative side of Kaushal during the last couple of weeks, they didn't flip
Kaushal's focus and determination:
Kaushal's focus on the game and determination to win the title paid off finally. Another biggest advantage to him is no other housemates were able to raise to the level of him despite getting several chances. This helped him win the game with record margin.
We'll have to wait and see how he designs his future with the image he got from the show.